Royal Windsor Twixmas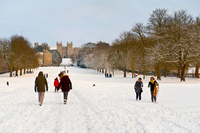 There's no need to go stir crazy between Christmas and New Year. Royal Windsor's attractions are open for winter garden walks, a sneak peak at festive Windsor Castle, calorie burning on ice or a gallery's cultural inspiration. And while you're out try a festive pint of local ale or lunch involving something other than turkey and sprouts.
Windsor Castle
Windsor Castle is the oldest and largest inhabited castle in the world. It has been the family home of British kings and queens for almost 1,000 years. See the State Apartments transformed with festive decorations. In the State Dining Room, a beautiful table of glittering silver-gilt from the Grand Service takes centre-stage and the spectacular six-metre Nordman Fir Christmas tree from Windsor Great Park dominates St George's Hall. Closed 25-26 Dec then open to 31 Dec, 10am – 4.15pm.
The Savill Garden
Blow away winter cobwebs and enjoy fantastic walks with vivid pockets of colour and scent around 35 acres of The Savill Garden, Windsor Great Park. Britain's finest ornamental garden includes TThe Queen Elizabeth Temperate House with seasonal interest and a relaxing spot for cold and wet days. Poinsettias provide festive cheer in the lead up to Christmas and hyacinths and scented narcissi fill the Temperate House with perfume through to January and February. The national collection of Mahonias, sweet scent of witch hazel and intense perfume of the winter beds, challenge the conventional view that winter is a barren time. The Savill Garden closes on Christmas Eve and Christmas Day only and is free to visit during December 2014, January and February 2015, open 10.00am – 4.30pm. (Normal car park charges apply).
Cliveden
Set high above the Thames with far-reaching views, Cliveden's gardens and woodlands capture the grandeur of a bygone age. Tackle the Cliveden Maze, 500m of paths and a re-creation of a maze designed and built for Lord Astor, the former owner of Cliveden, in 1894. Or venture beyond the formal gardens to secluded glades, tree-lined avenues and picturesque riverside on the miles of woodland walks. The estate closes for Christmas Day but the gardens and woodlands are open again from 26 to 31 December, 10am - 4pm.
Windsor on Ice
Now in its 5th year at Alexandra Gardens, Windsor on Ice offers a great family day out regardless of the weather. The only temporary ice rink with a covered main rink and an outside ice skating track so skaters can still enjoy the fantastic views. The Ice rink is open daily (except Christmas Day) until Sunday 4th January, and 45minute sessions start from 10.00am and finish at 8.00pm.
Stanley Spencer Gallery
Dedicated to one of the most original British painters of his generation, the Stanley Spencer Gallery stands as a lasting memorial to the man who became synonymous with the village of Cookham; housing the world's largest collection of his works in the former Methodist Chapel he attended as a child. In 2011, a poll of 1,000 British painters and sculptors named Spencer as one of the top 10 most influential British artists of all time and ArtFund recently named it as one of the top five unmissable small UK Galleries. Open Thur – Sun (closed Christmas Day) from 11,00am – 4.30pm.
windsor.gov.uk