Damn the Dardanelles: The 100th Anniversary Tour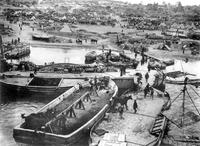 One hundred years after one of the most controversial campaigns of the Great War, pre-eminent First World War historian Professor Gary Sheffield offers fresh insight into The Gallipoli Campaign. Stand among the olive trees in a place where, in 1915, the Great War was expected to turn in the favour of the Allies'. Instead, it became a scene of bloodshed and carnage.
For some, it is the great missed opportunity — one that would have offered a way around the bloody deadlock of the Western Front. For others, it was a monumental folly and a catastrophic strategic blunder, further compounded by tactical incompetence. Historical Trips presents the opportunity to walk in the steps of the soldiers, and discuss a variety of perspectives — dissecting interpretations from the British, Australian and New Zealanders, and the often neglected ally, the French, as well as those of the victors, the Turks.
One hundred years later, travellers are invited to stand on the landing beaches at Cape Helles and Anzac, and retrace the bitter fighting inland and the doomed attempt to outflank the Turkish defenses at Suvla Bay. From visits to the Gallipoli peninsula and a day of sightseeing in Istanbul, this 8-day tour provides holidaymakers and history buffs alike with an understanding and perception that only standing on hallowed ground can deliver. From lectures in Canakkale to tours of the battlefields and beaches, see Gallipoli through the eyes of those who were victorious, and those who were defeated.
From the 6-13th of September, voyagers can immerse themselves in battle and re-live the determined strategy of Winston Churchill to secure the Dardanelles, and discover where it all went catastrophically wrong. Led by expert Gary Sheffield, those on the trip will discuss the strategy of the Campaign, the challenges of naval warfare and amphibious landings, the issues of command, the tactics, the airpower, and the experiences of everyday soldiers and sailors. The tour ends in Istanbul — one of the greatest and most fascinating cities in the world – where it explores the Hagia Sophia, the Hippodrome and Topkapi Palace, and comes to rest in the Haidar Pasha Consular Cemetery, administered by the Commonwealth War Graves Commission and containing the graves of hundreds of British service personnel, from the Crimean War to the Second World War.
Departing 6th September 2015, this tour lasts eight days and includes expert guide lecturer Professor Gary Sheffield and a Historical Trips tour manager, 4* hotel accommodation, all meals, transfers by boat and coach, lectures, entrance fees and a signed copy of The First World War in 100 Objects by Professor Gary Sheffield.
Visit: historicaltrips.com.