England cricket star Michael Vaughan bowled over by a Vauxhall Ampera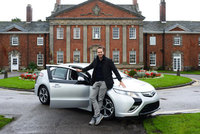 Former England cricket captain, Michael Vaughan OBE, has taken the delivery of a new Vauxhall Ampera extended-range electric vehicle.
Michael, who led the England cricket team to their outstanding 2005 Ashes victory and more recently tread the boards on Strictly Come Dancing, now coaches and broadcasts across the sport. He will join a number of other Vauxhall ambassadors by driving a top-of-the-range Ampera Electron.
"Driving a new extended-range electric Vauxhall Ampera is great," said Michael. "It's unbelievably quiet and with an electric range of up 50 miles before switching to petrol, makes it perfect for both long and short journeys, as well as being environmentally friendly."
He also commented, "I can search over 200 charging points across Manchester easily via an app and with more charging points than petrol stations across the city, charging my Vauxhall Ampera is easy."
The award winning Vauxhall Ampera is well equipped with voice activated elite sat navigation featuring street level mapping for 20 European countries, audio/video DVD player, hard drive device with 30GB music file capacity and Bose 'Energy Efficient Series' sound system.
Denis Chick, Communications Director, Vauxhall Motors, added, "We are very pleased to be working with Michael Vaughan. The Vauxhall Ampera demonstrates the future of automotive innovation, pushing boundaries and going further. Michael has certainly illustrated these elements throughout his career. It's great that he is driving the Vauxhall Ampera and learning more about the efficiencies offered by high-tech electric vehicles."
The Vauxhall Ampera has a real-world battery range of between 25-50 miles and can be charged by a 240V three point plug on a separate circuit in your home. It has a small range-extending generator, powered by a 1.4-litre petrol engine, which intervenes to provide up to an additional 300-plus mile range. At all times, the Vauxhall Ampera's wheels are electrically driven, setting it apart from hybrid vehicles.
Ampera pricing starts at £28,750 on-the-road (including a £5,000 government grant) for the Positiv model. The car is available through a network of 26 specialist Vauxhall dealers and is covered by a 3 year warranty with a separate 8 year warranty on the battery.