2015 - The year of the Rugby World Cup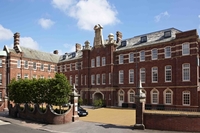 The world spotlight is set to shine on Exeter as the Rugby World Cup 2015 lands in the city. The Magdalen Chapter, a contemporary hotel in the heart of the city, will be offering guests the chance to experience the excitement of the games in style with an exclusive World Cup package.
Exeter's Sandy Park will host a number of group matches during the six week tournament. The matches include Tonga vs Africa on September 29, Africa vs Georgia October 7 and Italy vs Romania on October 11.
The two-night break will be available at the hotel to coincide with each Exeter game. Guests will enjoy champagne served before and after each match and a full English breakfast each morning. After a full day of chanting and cheering, guests can enjoy dinner in the hotel's stylish restaurant. The hotel's Guest Experience team will also take care of transport to and from Sandy Park stadium for those fortunate enough to have snapped up tickets.
General Manager Fiona Moores said: "Without question Exeter will be overflowing with atmosphere during September and October next year and here at The Magdalen Chapter we can't wait to share the magic of the World Cup with our guests. Many will be visiting from far and wide to support their teams and our package is perfect for those looking to regroup and relax in down time between matches."
The Magdalen Chapter is just a five minute walk from the designated Fan Zone at Northernhay Gardens where big screens will be showing the matches live.
A number of World Cup themed food and wine events will also be taking place at The Magdalen Chapter during the World Cup. Details of these will be released early next year.
Priced from £699, the World Cup package includes two glasses of champagne, two nights bed and breakfast, a three-course dinner on one night and pre-arranged transport for guests watching any of the matches played at Exeter's Sandy Park.
The World Cup package is available from the 28 - 30 September and 6 - 8 and 10 - 12 October inclusive. For more information about The Magdalen Chapter, visit themagdalenchapter.com.