Healthy New Year food and fun in Northumberland for 2015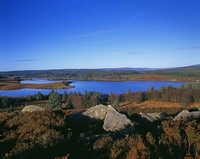 Each year around seven million people will make a New Year's resolution to improve an aspect of their health, with fitness commonly being a top priority.
But that doesn't mean the first few months of the year has to be spent sweating it out at the gym with only a sprig of parsley to look forward to!
Give yourself a healthy food and fitness New Year break in beautiful rural Northumberland where the fun, outdoor activities are endless, the delicious food on offer is locally produced and the air is pure. You're guaranteed to return home with a glow in your cheeks and a spring in your step!
We've matched up a selection of calorie burning, outdoor activities you can enjoy in Northumberland from January to March, which also happen to be on the doorstep of outstanding Northumbrian pubs, restaurants, hotels renowned for their delicious healthy, locally sourced food. So no excuse to lounge around. Wrap up warm and head for the hills!
Still have some Christmas fayre to shift? A leisurely 1.5 mile walk around Kielder Water and Forest Park (visitkielder.com) could burn off the 270 calories in a mince pie. Or for those feeling more active, the calories in a Christmas pudding could fuel an hour on a Kielder Forest cycle trail.
The mouth-watering Orchard Farm Dry Cured Gammon Steak on the award winning menu at Battlesteads Hotel Hexham (battlesteads.com) can be totally justified with an exhilarating cycle ride around the nearby Lakeside Way Trail at Kielder Water and Forest Park, Northumberland. The 26 mile multi-user path which is suitable for walkers, cyclists and horse riders, gives access to lovely parts of Kielder Water's shore and the opportunity to get up close to some of area's wildlife including red squirrels, otters, roe deer and many woodland and wading birds. However we suggest the cycle ride first! Battlesteads Hotel, Hexham offers 2 Nights' Dinner, Bed & Breakfast for only £200 for 2 people.
There are hundreds of cycle routes around the whole of Northumberland. Cyclists are always very welcome at Tomlinsons Café and Bunkhouse in Rothbury tomlinsonsrothbury.co.uk who have even appointed a Sports Development Officer in partnership with Bike4Health in order to focus on happy, healthy food and cycling. They serve delicious all day breakfasts (and they mean all day!) and source all their meats locally. This is a renowned stop off point for the cycling fraternity. The Queens Head in Rothbury is also popular with cyclists, and walkers and their head chef has recently started making their own Northumbrian sausages, burgers, haggis and black pudding, with meat sourced from local farms queensheadrothbury.com
For the seriously sporty, if you're looking for a challenging early 2015 event in the same area, on Friday 6th to Sunday 8th February, there is a Residential Running Training Weekend hosted by Steve Cram at Kielder Water Forest Park. This is suitable for beginners to club runners. visitnorthumberland.com/sporting-event/steve-cram-training-camp&ssid=877892. If you're keen on this and need somewhere to stay, then Kielder Lodges visitnorthumberland.com/self-catering/kielder-lodges offer self-catering accommodation or the nearby 17th century Pheasant Inn (thepheasantinn.com has a superb reputation for locally sourced food and makes up great packed lunches if necessary. Walkers, cyclists, runners and dogs all welcome here.
Northumberland is becoming quite a haven for runners. Kirkley Hall is hosting the Run Nation Northumberland half marathon on 29th March visitnorthumberland.com/sporting-event/run-northumberl-half-marathon-&ssid=877892. The event is open to runners of all abilities and is ideal for anyone aiming to do the Great North Run! If runners are looking for somewhere to stay for the weekend nearby, then the Dyvels Inn at Corbridge does great home-cooked food thedyvelsinn.co.uk or Matfen Hall Hotel, Golf and Spa (matfenhall.com) has a fantastic restaurant and also hosts the fabulous tree top adventure park "Go Ape" in its grounds – so you can achieve your half marathon, enjoy fabulous food and then work it all off again on the golf course, in the spa or in the trees!
Taking the pace down a little, but still getting fit and burning calories, there are many hundreds of beautiful walking routes in Northumberland, from the magnificent Cheviot Hills in the North to walks along Hadrian's Wall in the West and breath-taking cliff top and beach walks on the coast. Knowledgeable guides also run wildlife and otter safaris, hill walks and whale and dolphin cruises. Try Northern Experience Wildlife tours visitnorthumberland.com/tours-tour-guides-courses/northern-experience-wildlife-tours&ssid=877892 or Footsteps in Northumberland visitnorthumberland.com/birdwatching/footsteps-walking-the-beauty-of-northumberl-&ssid=877892. Both are equally good and take visitors all over Northumberland from gentle, two mile strolls to boat trips and 20 mile hikes.
If you're walking on the Northumberland Coast in early 2015, there are some great pubs and restaurants serving a good range of healthy, local fayre.
Great pubs by the sea to stay in – or simply to enjoy their locally produced food including freshly caught fish and seafood include The Ship Inn, nearly right on the beach at Low Newton, which also brews its own beer (shipinnnewton.co.uk) or the Jolly Fisherman at Craster thejollyfishermancraster.co.uk where multi award winning chef serves up an array of freshly cooked produce including their famous crab soup and rib eye steaks.
If you wish to combine an active weekend on the Northumberland coast with a feast of fantastic food and drink, then book in for one of the Ship Inn's famous Taster Menu Evenings on 12th, 13th or 14th March 2015. These events have always sold out in the past. All of the beer is produced by The Ship Inn within their microbrewery (Sandcastles at Dawn, Ship Hop Light etc) and the food – including Slow Baked Pelham Farm Sausages in Beer (Squid Ink) and onions - and many other tasty dishes, is locally produced wherever possible.
Other welcoming pubs with great food in the North Northumberland coastal walking area include the Bamburgh Castle Hotel at Seahouses (bamburghcastlehotel.co.uk or the Lindisfarne Inn at Beal (lindisfarneinn.co.uk) which lies just at the end of the causeway to the Holy Island of Lindisfarne. These inns are all offering an amazing deal of dinner, bed and breakfast for just £49.95 per person, per night, from now until March 31 2015 (subject to availability and excluding Christmas and New Year)
For more information on any of the above, go to visitnorthumberland.com.