Stay for less with Ibis this winter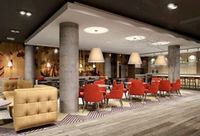 Ibis and ibis Styles hotels have announced their winter warmer prices, with reductions of up to 30% on stays at more than 68 hotels across the UK and Ireland. With great low rates from just £35 its the perfect time to experience the ibis and ibis Styles hotels – stylish, affordable hotels that give you more for your money.
The up to 30% off room rate will be available to book until the 3rd of March 2015 and is valid for stays between the 12th December 2014 and 13th April 2015.
Ibis and ibis Styles hotels are situated in great city cente locations across the UK making them ideally situated for new year getaways and to explore the best of Britain this winter.
Ibis
Ibis hotels offer high quality accommodation at a competitive price at each of its 60 hotels across the UK and Ireland, including London, Manchester, Birmingham, Edinburgh, Dublin and Bristol. With a new look being rolled out, ibis hotels are comfortable and stylish with funky seating, bold colours, cool fabrics, graffiti art walls, designer furnishings all completing the new look. Free high speed Wi-Fi and the best sleep imaginable on the Sweet Bed by ibisTM and the winter sale offering up to 30% off, ibis is a better hotel for your money.
Ibis Styles
Ibis Styles is both affordable and designer - the brand that gives you more than you bargained for, with each hotel telling a story through its design. Ibis Styles is the all-inclusive option for travellers who want originality, comfort and style without compromising on price. They are hotels with a unique personality, in great cities such as Liverpool, Edinburgh and London. All ibis Styles hotels offer all inclusive extras such as an all-you-can-eat breakfast buffet, free Wi-Fi and large, flat screen TVs. Ibis Styles can be found in nine central city locations around the UK and with up to 30% off this winter, it's the perfect time for a stylish city break.
For more information about ibis hotels or to book a room visit ibis.com.