2015 Mazda CX-5 - Upgraded standard equipment and infotainment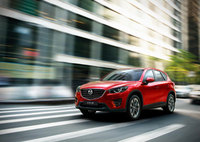 The 2015 Mazda CX-5 upgraded model goes on sale in the UK in spring this year. Priced from £22,295 to £30,595 on-the-road (OTR), the 16-strong model range features significant interior trim and standard equipment specification upgrades, as well as exterior enhancements.
The 2015 Mazda CX-5 model range is available in three grades; SE-L, SE-L Lux and Sport Nav. The range comprises three 2.0 litre petrol two-wheel drive variants equipped with six-speed manual transmissions, and thirteen 2.2 litre diesel versions - six of which are available with all-wheel drive - fitted with a choice of six speed manual or automatic transmissions.
'No other vehicle in the Mazda range demonstrates the value of SKYACTIV technology more clearly than the Mazda CX-5' commented Mazda UK Sales Director, Peter Allibon. 'It has allowed the company to build a Compact SUV that delivers outstanding fuel economy and low CO2 emissions without compromising either performance or driving dynamics. And now, for 2015, significant enhancements and standard equipment upgrades make the Mazda CX-5 more price-competitive than ever before.'
The standard equipment specification of every model in the CX-5 line-up has been enhanced through the addition of manual front passenger seat height adjustment, an electronic parking brake, a coming/leaving home headlamp function, and the company's Multimedia Commander with separate volume dial for safe, intuitive interactivity and infotainment control.
A new 7-inch, full-colour, centre console touch-screen incorporates DAB radio, two ports for USB connectivity and MZD Connect. Paired with a smartphone, MZD Connect makes it easier to take advantage of functions such as internet connectivity and access to social networking services.
Top-of-the-range Sport Nav models benefit from new exterior features including 19-inch Gunmetal alloy wheels, LED headlamps including LED daytime running lights, and LED foglamps.
On board, an already comprehensive Sport Nav standard equipment specification is further bolstered by a new Integrated Navigation system which offers greater accuracy, improved search features and three years of free map updating.
SE-L Lux and Sport Nav grade options now include Stone Leather upholstery (in lieu of black), whilst the Sport Nav options list further benefits from Mazda Radar Cruise Control, and an evolution of the Safety Pack which incorporates several newly-developed technologies.
Adaptive LED headlamps (ALH) automatically adjust the array of high beam illumination to avoid dazzling the occupants of both oncoming and preceding vehicles, without the need to switch to low beam lighting.
The Lane-keep Assist System (LAS) with Driver Attention Alert (DAA) builds on the existing Lane Departure Warning system, providing steering wheel vibration and assisted steering if the driver strays from the middle of the chosen lane. Having first learned the owners driving style, DAA operates at speeds of over 40mph, alerting drivers to take a break if it detects a degradation in driving style indicating fatigue.
Advanced Blind-Spot Monitoring with Rear Cross-Traffic Alert (BSMw/RCTA) combines two systems in one for greater safety. The system's larger detection area to the side and rear of the vehicle provides better coverage, whilst BSM employs the same system sensors to detect pedestrians, bicycles and other vehicles when reversing.
Rear Smart City Brake Support (RrSCBS) operates at speeds of between 2 and 5mph when reversing, automatically applying the brakes if the system detects an imminent rear impact.