Spring half term adventures in Shakespeare's England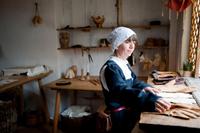 Enjoy the spring half term from 14 - 22 February in Shakespeare's England with a host of exciting adventures. Design your own gloves in the same workshop where Shakespeare's father worked, take in a show at Stratford ArtsHouse, dress up as a little princess at Warwick Castle, take part in junior jousting at Kenilworth Castle and find out about stage make-up at the Royal Shakespeare Company, there is something for all the family to enjoy this half term.
Design your own gloves in the workshop at Shakespeare's Birthplace where William's father worked. Learn about gloves, their meaning in Tudor society, materials used and tanning. Make a Tudor sweet bag, fill it with sweets and learn about how these bags were used. Get creative at Harvard House and make a Jack-o-Lent finger puppet, traditionally created during Lent by children.
The Royal Shakespeare Company is offering families an array of activities including the chance to see the technical team transform one play's set to another in 90 minutes, plus get an insight into the world of stage make-up and pick up a few tricks of the trade along the way with a workshop "Blood, Guts and Gore".
Warwick Castle offers a fun-packed day out for all the family. Little princesses can enjoy dressing up at The Princess Tower, whilst all guests can experience the sounds and smells of yesteryear at Kingmaker: Eve of Battle - which tells the story of how the 16th Earl of Warwick prepared his household for battle. Daily shows include Flight of the Eagles which sees eagles and vultures flying from the ramparts. Discover the Castle's Bear Tower, the Guards' room in Guy's Tower, and the haunted Watergate Tower, all of which tell their own part of the Castle's rich 1,100-year old story.
Celebrate the 3rd birthday of the MAD (Mechanical Art & Design) Museum. Situated in Stratford-upon-Avon, MAD houses around 60 pieces of interactive art belonging to pioneering artists from all over the world. From marble runs and giant clapping hands to 3D faces and enormous robotic crows, all of the contraptions on display show engineering, scientific and artistic elements. For the kids there are lots of buttons to press and handles to turn and for those a little older it's a chance to release their inner inventor! This wet weather attraction offers a great playground for adults and a perfect hideout for inquisitive kids.
Watch Jack and the Beanstalk at Stratford ArtsHouse on 14 February with Patrick Lynch from Cbeebies telling the gripping story of Jack who sells his cow for 5 magic beans and finds himself in the land above the clouds. The show is for the over 3's with something for everyone – enormous shoes, tiny houses, showers of silver and gold and a big, leafy explosion! Or watch Dylan Moran, the star of Black Books, Shaun of the Dead and Calvary, perform his warm up show on the same day.
Enjoy a fun packed week of Auto Science Live at the Heritage Motor Centre. The event features a range of free family friendly activities bringing automotive engineering and the science behind it to life. The programme includes story-telling sessions, an interactive time travelling inspired Auto Science trail plus drop in sessions and workshops.
Budding Knights and Princesses can join the Academy at Kenilworth Castle from 11am – 3pm and experience hands-on fun! Children can learn about courtly etiquette and try their hand at junior jousting.
Take part in an Elizabethan spy week at Tudor World in Stratford-upon-Avon. In the past spies worked with codes and invisible ink, breaking seals and forging signatures. Francis Walsingham, Elizabeth's famous spymaster, had a network of agents who operated in secret including William Shakespeare. Young visitors are tasked at cracking the code at the school desk and each will be given a Time Travelling passport to complete.
Banish the winter blues and enjoy a guided walk at Charlecote Park on Thursday 26 February. See new discoveries in the Park, reflect on Capability Brown and the impact on Mary Elizabeth Lucy. Tickets cost £10 and include hot chocolate and cake in the Orangery.
Teenagers can celebrate being 'Sweet 16' at Hogarths on Fridays, Saturdays, Sundays and during half term. The package includes afternoon tea or a 2-course lunch or dinner priced at £350 for 12 friends with use of the Boardroom for 3 hours. The package also includes non-alcoholic cocktails / arrival punch, iPod music, 3x disposable cameras, pick & mix sweet table, table sprinkles and balloons.
Over at The Arden Hotel, children under 12 can stay free of charge when sharing their parents room or half the adult price when staying in their own room. Rates cost from £199 including B&B when taking two interconnecting rooms. Enjoy lunch on Sunday 15 February and listen to the soothing sounds of jazz. 2-courses costs £19.50 or choose from snacks and salads from £7.50 per person.
Take a 2 night break at the Macdonald Alveston Manor and discover the delightful town of Stratford-upon-Avon. Included in the break is a ticket per adult to one of the 3 main historic attractions in the area: Blenheim Palace, Warwick Castle or the 5 Shakespeare Houses. Cost from £60 per person per night which includes accommodation, full English breakfast and a 3-course dinner on the first night.
For more information and holiday ideas in Shakespeare's England, visit shakespeares-england.co.uk/family-breaks.