Official Tourist Board Guides celebrate their 40th anniversary!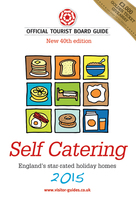 2015 marks the 40th anniversary year of the Official Tourist Board Guides and to celebrate this milestone, the publishers Hudson's Media are giving away 6 UK short breaks worth £500 each. Six golden tickets have been randomly inserted into copies of the Guides and the lucky finder of each will win one of six short break prizes which include hotel stays, holiday park breaks and self-catering accommodation.
The three Guides entitled 'B&Bs and Hotels', 'Self-Catering' and 'Camping, Touring & Holiday Parks' provide a trusted and comprehensive source of information for visitors looking to stay in the UK. The guides are published alongside the Official Tourist Board Guide website visitor-guides.co.uk where over 20,000 independent VisitEngland star-rated accommodation is featured. They are packed with information from where to stay, how to get there, places to visit and events to attend. The Guides also contain tourism contacts and tourist information centre's for each region enabling visitors to contact them and find out what's happening in the area they plan to visit.
Most accommodation establishments in Britain have a star rating from one of the four assessing bodies – VisitEngland, VisitScotland, Visit Wales or the AA. The bodies all assess to the same national standards so visitors can expect comparable services, facilities and quality standards at each star rating. The Quality Rose marque helps visitors choose with confidence knowing that the accommodation has been thoroughly checked out before they check in.
To celebrate this year's 40th anniversary of the Guides, they are on sale at a special offer price of £5.99. Copies of the Guides can be ordered online from hudsons.co.uk/shop and bought from major retailers including WHSmith's, Waterstones, Amazon as well as independent book shops.
Publisher of the Accommodation Guides, Deborah Coulter stated "The Guides are an invaluable source for visitors to find and book accommodation to suit all tastes and budgets. Whether a visitor is searching for an exciting location for a family holiday, a tranquil retreat for peace and quiet or a luxury hotel for a romantic weekend, they should use the Official Tourist Board Guides to plan that trip, certain that wherever they stay it is quality assessed and of a certain standard."
For more information about the Official Tourist Guides please visit visitor-guides.co.uk