Isuzu unveils 2015 motorsport plans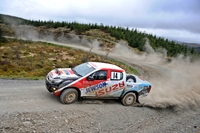 The Isuzu DMAX Rally Team has announced that it will be competing in the Britpart MSA British Cross Country Championship (BCCC) for the 2015 season, using the same Isuzu D-Max that took it to both Class and production titles in 2014.
The team survived a steep learning curve in the 2014 season, with much development being done between each round as the largely showroom-spec Isuzu D-max was steadily honed into a winning machine. Although many minor components like dampers, tyres and wheels have been uprated for competition use, impressively, the Jewson Isuzu truck still maintains its OEM chassis, engine and transmission – making the team's results last year all the more impressive. A testament to the rugged reliability of the standard machine, the Isuzu was one of very few vehicles to finish every single round of last year's championship, despite navigating some of the most treacherous and destructive stages on the motorsport calendar.
Piloted by experienced rally hand Jason Sharpe once again, and navigated by his nephew Russell Sharpe, the team hopes to build on last year's successes to make the Isuzu D-Max a regular sight on the stages of UK rallying. Competing against purpose-built machines costing five or six times as much, the Isuzu D-Max impressed both drivers and spectators last year at the hands of the Sharpes, recording times on some stages that were impressively close to the tube-framed, fibre-glass clad rally specials built specifically for the purpose.
To broaden the field in 2015 Isuzu UK is offering a 'competition only' deal to any tuner, competitor or Official Isuzu dealer that wish to go 'toe-to-toe' with the officially-backed machine. In a bid to increase the production and pick-up fields in the BCCC Isuzu UK are allowing registered competitors to acquire a brand-new Isuzu D-Max for only £15,499 + VAT & Road Fund Licence. Better yet, Isuzu will also fund ALL of the 2015 entry fees. Many of the component and parts sponsors behind the Isuzu DMAX Rally Team will be offering advantageously-priced upgrades too, allowing competitors to build a podium ready, facsimile vehicle for a very reasonable amount. Even with basic cage, seats and fire systems fitted, it will be possible to get a brand-new Isuzu on the start line for a little over £22,000 all in.
Commenting on the announcement, Isuzu UK Marketing Manager, Lois Greenidge said. "On the back of last year's win we've not only enjoyed great sales success with the Isuzu D-Max, but we have also had significant interest from competitors asking if we can offer a similar package to allow them to get out on stage. Our truck is remarkably well suited to success in the BCCC, and we hope, that with the package we are offering in conjunction with our technical partners, we will see many more DMAX competing in 2015."
For more details on Team Isuzu, visit isuzu.co.uk.
For more details on the BCCC and event dates, visit marches4x4.com/bccc.html.