Isuzu D-Max tailored fit 'ultra heavy duty' seat covers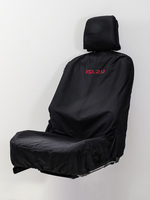 Isuzu has launched a range of tailored seat covers onto the market, designed to be a perfect fit for any of its current generation D-Max pick-up trucks.
After month of testing and technical approval, Isuzu's R&D division has created a cover that offers long-term durability, good looks, comfort – and most importantly, the ability to stand up to the rigours of working life and off-roading. Cost was also an important factor here too; the ability to look smart and well fitted, but without breaking the bank.
These new Isuzu D-Max seat covers are completely impervious to liquid, so guard against mud, paint, oil, food and drink. As a great way of protecting the fabric beneath, they can be fitted in just a few minutes, so can be left on as a permanent fixture, or simply added when the task or activity dictates.
Most importantly of all, they have been designed from the outset to work perfectly with the factory-fitted side-airbag deployment, with a large gap in the front, handed covers to allow the bag to deflate without impairment.
Available as either as individual front covers, rear seat only (perfect for the dog or kids!) or full set, these covers will keep any Isuzu D-max interior looking brand new. These covers are available from all Isuzu dealerships.
For more details on Isuzu trucks or accessories, visit isuzu.co.uk.
Parts Number and Pricing
Driver's Seat - IACC2730RH & Passenger Seat - IACC2730LH
RRP = £27.50 +VAT
Rear Seat Cover - IACC2731
RRP = £50.00 +VAT