Global stars ready to show off football skills at La Manga Club in 2015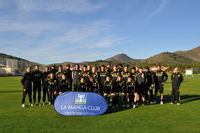 European giants Borussia Dortmund headline an impressive list of football clubs from all across the world who will make their way to the five-star La Manga Club resort to showcase their talents in the first three months of 2015.
Dortmund will be joined at Spain's flagship resort this month by Belgian title contenders Anderlecht, while La Manga Club is set to host other leading names from the men's and women's games as well as some of football's next generation of stars with a number of international teenage tournaments.
It will be the fourth year in a row that Dortmund's first-team squad has used La Manga Club's world-class facilities for a warm-weather training break and Jürgen Klopp's players - who will face Juventus in the last 16 of the UEFA Champions League next month – will be hoping for some much-needed inspiration after struggling in the first half of the current Bundesliga, sitting next to bottom at the mid-season break.
Anderlecht are staying at the Murcia resort from January 6-11 and will use their trip to help them continue their assault on the Belgian Pro League title and the UEFA Europa League, where they have been drawn against Dinamo Moscow in the last-32 stage.
The likes of Dynamo Zagreb, CSKA Moscow, top Peruvian side Allianz Lima, the Sweden national women's team and Mamelodi Sundowns – the first South African club to visit the resort – will add to the international flavour along with a collection of leading Scandinavian clubs, while La Manga Club is set to be a hotbed of teenage footballing talent with a series of important events taking place over the coming months.
Scouts from all over Europe are poised to flock to the award-winning destination in January and February with Germany's U17 side and U19 teams from Portugal, Turkey Norway and Slovakia all putting their skills on display.
And La Manga Club will also be the destination for the Ukraine, Austrian, Qatari and Uzbekistan Under-20 sides from March 25 to April 12 as they play a mini-tournament and continue their preparations for the FIFA U20 World Cup, which starts in New Zealand at the end of May.
With extensive facilities including eight international standard grass pitches, La Manga Club has made a name for itself as a first-choice destination for a football training break, with teams including Real Madrid, Liverpool, Shakhtar Donetesk and the England Women's team among the star names to have used the facilities in recent years.
As well as its football training amenities, the resort boasts a fully equipped gym and indoor swimming pool, ideal for recovery sessions; a host of rooms and spaces to cater for tactical meetings, private team dining and a new High Performance Sports Centre, where players can use the most advanced technology possible to study all aspects of their health and training programmes.
Set in 1,400 acres, La Manga Club boasts unrivalled facilities as a sports and leisure destination including three 18-hole championship golf courses, a 28-court tennis centre and a 2,000sqm spa and fitness centre. It also offers the choice of a five-star hotel, four-star serviced apartments and townhouses and more than 20 bars and restaurants.
For further details about La Manga Club, visit lamangaclub.com.