Federer plays Hewitt in a world first tennis launch in Sydney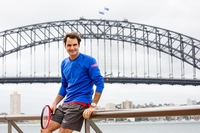 In a world first, Swiss tennis legend and current World No. 2 Roger Federer challenged Australian great Lleyton Hewitt to a high-impact match at the iconic Sydney Opera House, for the exclusive global launch of Fast4 Tennis in Sydney.
With the Sydney Harbour Bridge as a backdrop, Federer and Hewitt took the game to another level and created history when they played a friendly Fast4 Tennis match on the Northern Broadwalk of the Sydney Opera House. The tennis legends are the first in the world to exchange rallies at the unique location, with the new format of tennis being seen today for the first time around the world.
Fast4 Tennis is an innovative, new format of tennis developed by Tennis Australia. It is designed to offer a faster game. There are four rule variations from traditional tennis: no advantage scoring, lets are played, a tiebreaker to be played at three games all, and the first player to win four games wins the set.
Destination NSW CEO Sandra Chipchase said it was easy to see why Sydney was picked as the global launch city for the new fast format of tennis.
"I'm delighted that the global launch of Fast4 Tennis was unveiled exclusively in Sydney, the home of world class sport," Ms Chipchase said.
"Sydney is home to some of the leading sports events in the world, attracting some of the world's biggest names in sport. We're delighted to welcome Federer back to our shores for this exclusive, global premiere of the next big thing in the sporting world.
"Sydney is proud to be part of this historic event, celebrating the launch of the shortened version of the game."
Great friends off the court, Federer and Hewitt have one of the most enduring rivalries in tennis, along with a great mutual respect. The pair, both aged 33, have faced off 27 times since 1999, with Federer winning 18 of those matches. Tonight, in another world first, Federer will face off in a best-of-five sets match against Hewitt at the Qantas Credit Union Arena to showcase the new format of tennis.
For more information on Sydney go to sydney.com.