Audi pops up in Westfield Stratford to showcase Electric Car of the Year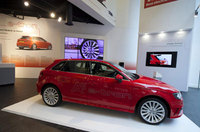 Audi opens its first ever 'pop-up' store today (Monday 12 January 2015) at London's Westfield Shopping Centre in Stratford. The store will showcase the A3 Sportback e-tron to shoppers in readiness for the national roll out of this recently crowned 2015 What Car? Electric Car of the Year at Audi Centres across the UK from 17 January 2015.
Utilising the latest 2D and 3D augmented reality as well as virtual reality, the full range of innovative technology that the versatile A3 Sportback e-tron has to offer is depicted through a suite of immersive digital platforms. The A3 Sportback e-tron will also be in situ 'in the metal'.
Customers can go on a virtual test drive of the very first Audi production plug-in hybrid electric car using Oculus Rift headsets, learn about the benefits of the four different drive modes available (including an electric-only mode and a hybrid charging mode) on the A3 Sportback e-tron, as well as personally configure their own bespoke model using the Audi Explorer App and Audi Mileage Tracker App. Additionally, the Audi connect app will enable owners of the car to control a variety of functions, such as the charging system via their smartphones.
The ground-breaking store compliments the cutting-edge performance of the A3 Sportback e-tron, which promotes mobility without compromise and is the first electric car of any kind to be derived from a UK best-selling premium hatchback. It couples a 75kW electric motor with a 150 PS 1.4 TFSI petrol engine, delivering the potential for up to 176mpg with CO2 emissions of just 37g/km. During a recent test drive in Vienna, the car drove 41 miles of a 55-mile city trip with zero emissions.
Sarah Cox, National Communications Manager for Audi UK, says: "The Audi store has popped up at Westfield Stratford at the perfect time with What Car? magazine awarding the A3 Sportback e-tron its 2015 Electric Car of the Year award only last week.
"Westfield customers will be able to explore the benefits of the first plug-in hybrid car produced by Audi with the help of leading-edge virtual technologies. It's an innovative way to interact with an innovative car and one which spearheads another new foray for the Audi philosophy of Vorsprung durch Technik."
Drivers who have already made the transition to an electric car and who park it at Westfield Stratford while they visit the pop-up store will be able to take advantage of six free charging bays courtesy of Audi from 12 January to 8 February.
The Audi pop-up shop will open seven days a week for four weeks until 8 February - 1000 to 2100hrs from Monday to Friday, 0900hrs to 2100hrs on Saturday and mid-day to 1800hrs on Sunday. For a taster of what the shop has to offer, visit audi.co.uk/etronwestfield.
Audi UK partnered with SOMO, its digital agency, to deliver the five new technology installations.