Learn all about Club activities at free 'Club Expo' event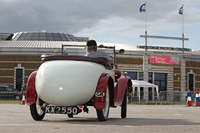 The popular Club Expo returns to the Heritage Motor Centre on Saturday 28 February from 9am – 4pm. The theme this year is 'Club Activities' with talks on social media and the benefits for Clubs, the Museum Collection Centre and what it will offer to Clubs plus Social Road Runs, AutoSolos and AutoTests.
All types of motoring clubs & groups are welcome. The event gives club and associated representatives the chance to network together and learn the fundamentals of running a club, making it successful and learning how to attract new members.
Hagerty International, the leading supporter of Club Expo and one of the UK's classic car insurance specialists, will again encourage club members to nominate an individual who deserves public recognition for their endless, hard work. The Hagerty Unsung Hero Award will be announced and presented to the winner at the event.

Talks, seminars and workshops will take place throughout the day plus there will be a mix of suppliers on hand including car insurance companies and local hotels. The keynote speech, is by Simon Barrett, West Midlands Police, on the subject of Vintage & Classic vehicle security.
John Bishop, Clubs, Groups and Rallies Senior Co-Ordinator at the Heritage Motor Centre stated "We look forward to welcoming Clubs to the HMC and revealing the winner of the Hagerty Unsung Hero Award. With our enviable central location, capacity for large events and superb facilities, the HMC is the ideal place for Clubs to hold Rallies, AGM's and committee meetings."
Each Club is entitled to bring two members free of charge which includes entrance and guided tours of the Museum. Additional tickets can be purchased at £8 per person. To enter a nomination for the Hagerty Unsung Hero Award, please email the name, club and a reason for the nomination to enquiries[at]hagertyinsurance.co.uk no later than 20 February. There is no limit to the number of nominations made.
To find out more information please visit the website at heritage-motor-centre.co.uk or clubexpo.co.uk.