Land Rover Experience Scotland receives top honours from VisitScotland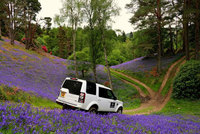 Following a 'mystery-shop' by VisitScotland, Land Rover Experience Scotland has received a five star activity centre award from the national tourism organisation.
Situated on the banks of Butterstone Loch near Dunkeld and with access to over 100 miles of wild Highland estate, Land Rover Experience Scotland offers a range of thrilling off-road driving activities and conferencing facilities in a truly unique and picturesque location.
The VisitScotland Quality Tourism Advisor who undertook a one hour session at Land Rover Experience Scotland, described it as "superb fun" and praised Land Rover Experience for its warm welcome and friendly, knowledgeable and engaging team.
Graham Clark, Proprietor, Land Rover Experience Scotland said: "We are delighted to receive this honour and feel very proud of our staff who have put a lot of effort into setting such a high criteria for this award. Our facility here at Butterstone gives us the opportunity to facilitate a range of events to a five star standard reflecting the strong customer focus and culture of excellence that the Land Rover brand embodies."
Land Rover Experience Scotland secured top marks for the welcome/attitude of staff, appearance of its staff, environmental awareness and cleanliness as well as its excellent off-road facilities which include an obstacle course with rutted tracks, steep hills, boulders, slippery slopes and woodland tracks – all of which create the ultimate setting for visitors to put the Land Rover family of vehicles through their paces.
Jim Clarkson, Regional Director at VisitScotland, said: "I would like to offer my sincere congratulations to staff at Land Rover Experience Scotland on receiving this award, but it comes as no surprise, as this attraction really is a fantastic asset to the tourism offering in Perthshire.
"We know that visitors love a truly hands-on experience and Land Rover Experience Scotland certainly offers just that, within the beautiful surroundings of Highland Perthshire."