Shaun the Sheep The Movie & Auto Science Live fun at Heritage Motor Centre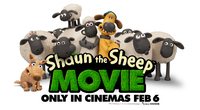 Children are in for a special treat with the Heritage Motor Centre's 'Shaun the Sheep The Movie' activity weekends. Celebrating the release of the movie on 6 February, these woolly loaded weekends take place on 24 & 25 January, 31 January & 1 February and 7 & 8 February. Young visitors can take part in Shaun the Sheep interactive activities including following the 'flock on the block' trail, starring in their own movie trailer, building their own Land Rover and making their own woolly top knots. The perfect way to keep them entertained on those cold, wet winter weekends. They can also enter the 'Shaun the Sheep The Movie' colouring competition and be in with a chance of winning some Shaun the Sheep goodies. The colouring sheet can also be completed without a visit by downloading it from the Heritage Motor Centre's website.
More fun for children of all ages takes place during February half-term when the Heritage Motor Centre hosts a packed week of Auto-Science Live. The event, which runs from 14 - 22 February, features a range of family friendly activities bringing automotive engineering and the science behind it to life. The programme includes Time Travelling Toby story-telling sessions, Lego Technic workshops, automotive crafts and 'MAD Science' interactive demonstrations. Also the whole family can join in with the time travelling inspired Auto Science trail.
Emma Rawlinson, Life Long Learning Officer for the Heritage Motor Centre stated "We are delighted to be hosting our Shaun the Sheep The Movie activity weekends plus a week of family fun Auto-Science Live activities, all of which are designed to entertain, inspire and educate. Not only do our activities include something for every age group, but if they Gift Aid their tickets during our Shaun the Sheep The Movie activity weekends, families can come back during half term and the rest of the year for free!"
All activities are free of charge but normal Museum entry fees apply: Adults £12, Child £8 (5-16 years) under 5 free, Concessions £10 & Family £34 (2 adults & up to 3 children). Buy one day and get 12 months free if you Gift Aid your entrance. For more information about the HMC visit heritage-motor-centre.co.uk.