Tyre Safety Companion named Auto Express 'Best App'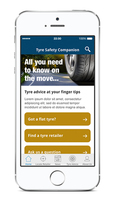 The Tyre Safety Companion, a new smart phone app from tyre safety group TyreSafe, is set to help even more drivers stay safe on the road in 2015 after being named as one of the best motoring apps for 2015 by leading motoring magazine Auto Express.
Launched during last October's tyre safety month, the app provides motorists with a wide range of practical tyre safety advice and tips while on the go. Available free on both Apple's iTunes and Google's Play stores, the app gives a number of handy hints, practical advice and reminders regarding a range of tyre safety issues such as what to do at the roadside in the event of a puncture, how to check your tyre pressures and much more.
"Being named as one of Auto Express' Best Apps for 2015 is a fantastic accolade," comments Stuart Jackson, chairman, TyreSafe. "It's important that drivers have easy access to accurate tyre safety advice while they're out and about, so we're delighted that this latest innovation has already been identified as a potential life saver."
The Tyre Safety Companion has been developed as part of TyreSafe's ongoing efforts to reduce the number of tyre related casualties on the UK's roads which remains a serious problem. Indeed, in 2013 nearly 1,000 casualties were caused by illegal, defective and under-inflated tyres. Meanwhile the AA reported that tyre-related call outs were its second most common breakdown fault, accounting for around one in ten breakdowns.
As well as being able to access a host of information on the go, users of the Tyre Safety Companion can opt-in to receive regular push notifications direct to their mobile device reminding them to carry out important tyre maintenance activities such as checking their tyre tread depth or tyre pressures.