Scotland's Snowdrop Festival: where to go, where to stay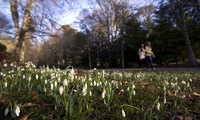 Scotland's 2015 Snowdrop Festival features more than 60 beautiful locations – from country estates to private gardens – that will open their gates to visitors on a range of dates between 31 January and 15 March.
Leading holiday cottage agency Scottish Cottages has dozens of properties within easy reach of virtually all participating gardens, ideal for an early Spring break.
Beside Loch Ness, Abriachan Garden Nursery (lochnessgarden.com) is open from 1 February, every day until dusk. Its woodland walks lead up the hillside to offer beautiful views over the loch and the plant nursery sells a wide range of hardy plants.
Just five minutes' drive along the loch is the village of Drumnadochit, where The Wee Cottage is a white-washed property with green-painted trim. A welcoming wood-burner, solid wood floors and a cosy double bedroom make it perfect for a couple (who may bring a dog at no extra charge) who will find the pub and shop a 100 yards away. A three-night break during the festival costs from £245, with a week from £315.
Made famous by Robert Burns' song, 'The Birks of Aberfeldy' is a dramatic wooded gorge close to the Perthshire town, with several waterfalls and carpets of snowdrops in early spring. A public footpath gives free access every day.
A couple of miles away is Tomchannon West Farm Cottage at Killiechassie, a low stone cottage with superb views over the Tay Valley. Sleeping two, this pet-friendly property has been beautifully renovated but retains Victorian features such as wood floors and an open fire. A three-night break during snowdrop time starts at £212, with a week from £272.
The Logan Botanic Garden (rbge.org.uk) is in a superb spot on Scotland's south-west tip in Dumfries and Galloway. Warmed by the Gulf Stream, this 'sub-tropical' garden is open on Sundays in February for the snowdrops, then every day from 15 March when the camellia walk will be at its best.
Palm Tree Cottage is just a few miles away in Portpatrick; the palm tree in its garden illustrating the unique microclimate enjoyed on the peninsula. Sleeping up to six in three bedrooms, this former toll house has been superbly modernised. Three nights in February costs from £305, or from £395 for a week.
scottish-cottages.co.uk