Vauxhall Insignia reaches production milestone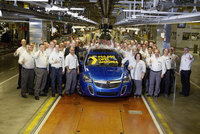 The 750,000th Insignia has rolled off the production line at the Vauxhall/Opel plant in Russelsheim, Germany.
The Insignia has been a sales sensation for Vauxhall with over 210,000 sold in the UK since its launch in 2008, making it the biggest market in the world for this model. Sales were up ten per cent last year according to figures released by the Society of Motor Manufacturers and Traders.
Thanks to its stylish design, exceptional standard spec and low running costs, the Insignia is particularly popular with company car drivers and fleet-decision makers with true fleet registrations up by 43 per cent last year.
Voted European Car of the Year in 2009, the Insignia was given a boost in 2013 when a new generation model was launched. The new Insignia range offers a vast array of choice to customers with three body styles, 98g/km CO2 to 325PS and front- and four-wheel drive powertrains. The new model has sold 155,000 across Europe, 100,000 of which were last year.
"This is a special day for the entire team," said Axel Scheiben, Vauxhall/Opel's Plant Manager at Rüsselsheim. "We have every reason to be proud of the fact that we have already produced our successful Insignia model 750,000 times. Our team does an outstanding job day in, day out, manufacturing highly complex vehicles in top quality."
The milestone vehicle was an Insignia VXR Sports Tourer in Arden Blue.