Hotel Cafe Royal launches new Atelier Collection of cocktails in collaboration with Parfums Givenchy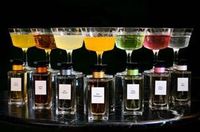 On 1 February 2015, Hotel Cafe Royal will launch an exclusive Atelier Collection of Cocktails in collaboration with Parfums Givenchy, celebrating L'Atelier de Givenchy fine fragrances. The exclusive cocktail collection will be available in the hotel's vibrant Green Bar, debuting from 1 February to 31 March 2015, priced at £13 per cocktail.
Developed by Tiziano Tasso, The Club at Cafe Royal's talented mixologist, the seven cocktails have been designed to mirror the seven fragrances of L'Atelier de Givenchy fragrance collection. Marrying the world of fragrance and flavour, each of the cocktails has a distinct colour and unique personality and taste, reflecting the key perfume notes which are unique, universal and distinguished. The quintessence of the Givenchy style has been conveyed by the seven fragrances of the Atelier de Givenchy collection, combining Couture and fragrance, each reflecting a different look and personality, and now by the new limited-edition cocktail collection.
Each fragrance has been structured by the richest raw materials (including rare flowers, precious woods, dazzling fruits and vibrant leathers) and each fragrance name reflects the symbiosis of perfume and fashion, pairing an olfactory raw material with a Couture reference. Hotel Cafe Royal's mixologists have masterfully mirrored this with an emphasis on detail and finish to create the cocktail collection.
L'Atelier de Givenchy seven fragrance and cocktail collection includes:
Chypre Caresse – a delicate and timeless fresh chypre
Developed with the elegant aromas of gin, jasmine, lemon citrus and the subtle, yet rich, notes of honey.
Ylang Austral – an ethno-chic and graphic woody floral
Featuring an unusual combination of flavours including Rum, sour apple sherbet, orange Curacao and mandarin oils, to add balance and depth.
Neroli Originel – an oriental green for the elegance of an icon
Made using the most traditional of French spirit, Cognac, combined with vanilla, lemon and essential oils from bitter orange.
Cuir Blanc – a radical carnal neo-leathery
This martini style cocktail is created using Siberian pine needle extract, to give the palate a woody and fresh taste.
Bois Martial – a noble and legendary gourmand woody
An ultra-structured cocktail created using Jamaican rum, pineapple and sage leaves.
Ambre Tigre – a mysterious and feline ambery
Featuring rye American vodka unusually combined with Dutch honey whisky and English amber beer.
Oud Flamboyant – a bold and magnetic smoky woody
Featuring an unusual combination of flavours including Japanese whisky and mandarin juice, to add balance and depth.
Located on one of London's finest shopping streets, bridging the elegance of Mayfair and the creativity of Soho, Cafe Royal has been at the heart of London since its original opening in 1865, welcoming a variety of guests from royalty and celebrity to rock stars, models and muses. Today, Hotel Cafe Royal has returned to the centre of London's social scene as the place to see and be seen, following its recent renovation. The hotel's Green Bar is a vibrant cocktail destination evocative of 1920s Paris and is open daily from 12noon until midnight.
For further information, visit hotelcaferoyal.com and follow @caferoyalhotel on Twitter and Hotel Cafe Royal on Facebook and Instagram.