New Generation i20 is ready for work and play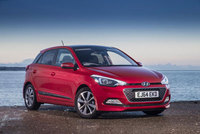 The wait is nearly over for customers eagerly awaiting the New Generation Hyundai i20 which goes on sale this week, competitively priced from £10,695. Available at Hyundai dealerships nationwide from Thursday 22nd January, the all-new model boasts a sophisticated new design, high specification and first-in-segment features, class leading interior space and generous levels of equipment.
Since the car's first public unveiling at Paris Motor Show 2014, New Generation i20 has made bow waves, with strong interest from existing i20 owners as well as those new to the Hyundai brand. Industry experts and journalists have also handed the New Generation model their fair share of praise, while residual value experts have awarded New Generation i20 among the best residual values in its class.
New Generation i20 1.2 S starts the range, with predicted residual values at 46% of cost new forecast after 36 months/30,000 miles and other models are among the best in their respective categories. Business customers will benefit from strong residuals, with highly competitive contract hire rates starting from £137.99 per month. New Generation i20 delivers further good news for fleet and business customers in the form of low SMR costs - the entire range remains economical, while S and Premium models are best in class.
For retail customers, the New Generation i20 delivers exceptional value and desirability with low PCP payments - £152.45 per month will get customers behind the wheel of an i20 S, including a generous £500 deposit contribution from Hyundai Motor UK and £1,639 customer deposit. Customers purchasing i20 SE on PCP can take advantage of £750 deposit contribution from Hyundai, while Premium and Premium SE customers will benefit from £1,000 contribution.
Tony Whitehorn, President & CEO, Hyundai Motor UK said: "New Generation i20 is a true competitor in Britain's most popular vehicle segment. It ticks all the right boxes for fleets and businesses, as well as catering to the needs and tastes of discerning retail customers. The quality, features and specification of this car speak for itself, and we are delighted that this has been demonstrated in the form of strong residual value predictions which are among the best in class."