Hyundai launches All-New Genesis executive saloon in the UK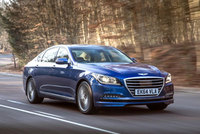 Hyundai's new high-technology premium saloon, All-New Genesis, will be available in the UK from 2nd April 2015, priced at £47,995 OTR. Available in limited numbers, the new flagship model will be sold exclusively via selected Hyundai dealerships nationwide.
All-New Genesis clearly demonstrates Hyundai's capabilities in the areas of innovative technology, luxurious comfort, craftsmanship and premium style, delivering on the brand's promise to provide value beyond expectations. Available in the UK in a single high-specification form, All-New Genesis offers a unique opportunity to own the most refined and technologically advanced Hyundai ever made available in Europe.
A potent 3.8-litre V6 GDI engine delivers power to the rear wheels, working in conjunction with an eight-speed automatic transmission to ensure an effortlessly smooth and serene driving experience.
Demonstrating Hyundai's latest design philosophy, the sophisticated exterior of All-New Genesis incorporates clean, fluid lines which sweep down its flanks. A long wheelbase with minimal overhangs ensures All-New Genesis projects a sophisticated exterior style which flows through to the interior where all occupants can enjoy true comfort and calm.
Cocooned inside a generous and luxurious cabin that makes use of the finest materials, driver and passengers are offered a true sense of opulence and serenity. Complete comfort is delivered through a combination of plentiful space and first-class seating finished in fine grain leather. All-New Genesis is equipped with a suite of intuitive yet unobtrusive new technologies, including an advanced driver infotainment system that displays detailed vehicle information on an 8" touch screen.
Advanced safety features include Smart Cruise Control, Automatic Emergency Braking and the world's first CO2 cabin sensor, which monitors the quality of the cabin environment and helps protect the driver from the dangers of drowsiness. Four cameras offer a 360-degree view of the vehicle at all times, providing assistance to the Rear Cross Traffic Alert system which warns drivers of approaching hazards when reversing from a parking space. Blind Spot Detection monitors traffic around the car while on the road and warns of approaching hazards. A head-up display projects important information into the driver's line of sight, while visibility is aided further by Bi-Xenon headlights equipped with automatic high-beam assist function.
A myriad of convenience features fitted as standard include the Smart Boot System, which automatically opens the boot if the smart key is detected within close proximity for longer than three seconds. This system allows the driver to keep both feet comfortably on the ground, simply waiting by the boot for a few seconds for it to open automatically. Puddle lights, featuring the Genesis logo, illuminate the area around the doors, which are equipped with an automatic-closing mechanism.
All-New Genesis is available in a choice of seven specially selected metallic and pearlescent exterior colours, which have been chosen to best showcase the sleek lines of the car. To accentuate its spaciousness and offer a serene, relaxing experience, three elegant interior trim colour options are available.
Echoing the premium ambiance of the vehicle itself, selected Hyundai dealerships will introduce bespoke Genesis retail display areas. Featuring high quality furniture and premium materials, the Genesis area of the dealership will also be staffed by a specially trained member of staff fully versed in all aspects of the vehicle.
Hyundai Genesis dealers
East London Hyundai
Macklin Edinburgh East
Bristol Street Motors Nottingham
Richmond Guildford
Johnsons Cars Coventry
Vantage Stockport
Dalys Garage Belfast
For further information, visit hyundai.co.uk/coming-soon/genesis.