Curious Colorado: New Year's Resolutions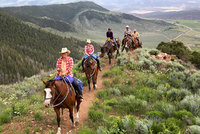 Spice up 2015 with some Colorado creativity, from getting healthy in one of the top 10 fittest states in the U.S to discovering where your food comes from; here are some of Colorado's top picks for this year:
Keep Moving & Get Fit
In Colorado, diverse options for activity keep people moving and help maintain Colorado's position as one of the Top 10 fittest states in the US. From family-friendly strolls to world-class challenges — take a hike in one of Colorado's 42 state parks or join Awe Struck Adventures and pedal your way to dinner on a farm in Boulder, dip and dine on an overnight raft trip on the Arkansas River, or gather girlfriends together for Yoga and Horses. If you prefer to sample along the way, cycle and sip Colorado wines on a bike tour in Palisade or cruise along with culinary tasting tour in Colorado Springs. Getting and staying fit can be disguised as fun!
Discover Where Your Food Comes From
The closer you are to the source of your food, the better for you and better tasting the food will be. Discover mouth-watering freshness and flavour of freshly harvested fruits and vegetables that you pick directly from an orchard, farm or market. Wander the mountains and valleys and forage for wild plants, mushrooms and herbs. Spend the night at a farm or ranch and wake up to fresh eggs, nickering horses and a glimpse of life on a working farm. Discover a region's unique culinary specialties: a delicious burger, an artisan cheese, a farm-to-table restaurant, a specialty crop or a regional cooking method. Chefs and farmers across Colorado are crafting and developing innovative culinary techniques to enhance the nutrition, flavour and experience of eating local foods.
Try the Unusual
Colorado is the perfect place to toss aside your normal routine and dive into the extraordinary; try sleeping in a yurt for some outdoor connection and heritage appreciation; subscribe to an art CSA and become acquainted with aspiring and establish local artists; breath history at a historic guest ranch; test your powers of inquiry during a murder mystery weekend; follow food from field to fork at a farm-to-table dinner; sample and savour views and craft cheese and wine on a Colorado farm; participate in a random and quirky festival; or seek solitude to reflect on the wonders of nature.
Colorado is a four-season destination offering unparalleled adventure and recreational activities, an abundant arts scene, Western heritage, distinctive cuisine, and 25 renowned ski resort areas. The state's scenic landscape boasts natural hot springs, the headwaters of four major rivers, many peaceful lakes and reservoirs, eleven national parks and monuments, and 58 mountain peaks that top 14,000 feet.
For more information see:
colorado.com/english/home
facebook.com/coloradoukireland
twitter.com/colorado