Toyota to increase Mirai production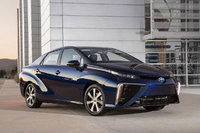 Toyota has announced it is to increase production of its Mirai fuel cell car. The hydrogen-powered saloon was launched in Japan on 15 December last year and will be introduced in the UK and other selected European markets during 2015.
The new plan calls for production to increase from 700 units this year to approximately 2,000 in 2016 and around 3,000 in 2017.
Toyota decided the supply structure should be adjusted to reflect the level of demand for the vehicle, in view of around 1,500 orders being received in the first month of sales in Japan and the prospect of the model being launched in Europe and the USA later this year.
Following the production increases, sales plans for Japan, the US and Europe will be formulated, taking into consideration the level of hydrogen infrastructure development, energy policies, car purchasing subsidies, consumer demand, environmental regulations and other factors in each region.