How many Range Rovers can thieves fit in a container?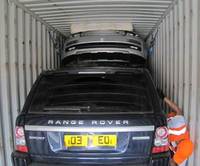 Tracker, the leading stolen vehicle recovery (SVR) provider, recently helped police at Tilbury Port recover four stolen Range Rovers, using its award-winning tracking technology. Police were in for a surprise when they opened the 40 foot container to discover the four Range Rovers squeezed in like puzzle pieces. Thanks to the hidden Tracker device on one of the vehicles, the whole stash of stolen vehicles, valued in excess of £250,000, was recovered, before they could be shipped overseas, never to be seen again.
"The Port of Tilbury, like other major UK ports, has always been a hotspot that criminals use to get stolen vehicles out of the country in a short period of time. However, according to police, criminal gangs are now also using less familiar ports, such as Grangemouth, in Scotland, Immingham or Killingholme, in East Yorkshire, to ship high value vehicles out of the country", explains Adrian Davenport, Police Liaison Manager for Tracker. "Official figures show 53% of stolen vehicles are never recovered and this case shows us why, as criminals hide the vehicles and ship them."
"Thanks to our close working relationship with the Police, combined with Tracker's unique GSM, VHF and GPS technology, we can help them locate a stolen vehicle, even if it is underground, a garage or in a shipping container. In addition, Tracker has just supplied additional Police Tracking equipment at strategic ports around the UK, so if a customer's brand new Range Rover Sport ends up dockside, there is an even greater chance we will pick it up before it leaves the country."
Tracker has been reuniting car lovers with their vehicles for over 20 years, and it's this expertise which makes Tracker the leader in stolen vehicle recovery. Tracker stolen vehicle recovery systems work like an electronic homing device. A covert transmitter is hidden in one of several dozen places around the vehicle. There is no visible aerial, so the thief won't even know it's there.