The Vauxhall Adam Grand Slam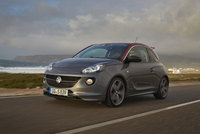 First seen at the 2014 Geneva Motor Show, the top-of-the-range Adam Grand Slam features slick design and a spirited 1.4-litre turbo (150PS) powertrain. With its sights firmly set on the Fiat 500 Abarth, Grand Slam also gets a specially-tuned chassis and a VXR braking system.
Vauxhall's stylish Adam took the fashion-led A-sector by storm when it arrived in the UK in 2013. And now the Grand Slam joins the range as the performance model with the same cool contemporary Adam style combined with more aggressive looks and power.
Adam quickly established itself as a bestseller within its segment with pan-European sales of 125,000 since its launch two years ago.
It has also been a sales success in the UK with over 22,000 sold. Sales increased by 72 per cent last year according to figures released by the Society of Motor Manufacturers and Traders. Typically for a car of this type, the majority of sales (a whopping 90 per cent) are to private buyers.
"The Adam Grand Slam has been designed for people who want to enjoy a sporty driving experience in a car with a unique and individual look," said Tim Tozer, Vauxhall's Chairman and Managing Director. "I'm sure the latest addition to the Adam range will be just as successful as its stylish stablemates."
Priced from £16,995 on-the-road, the Adam Grand Slam will arrive in Vauxhall showrooms in March.
Design and Connectivity
Sporty and stylish design with Vauxhall design cues
Red 'n' Roll design including premium-inspired interior
Sophisticated IntelliLink for smartphone and tablet connectivity
Adam Grand Slam's wide front and rear tracks (1.47 metres and 1.46 metres respectively) give the car a naturally agile and muscular appearance.
Vauxhall design cues including the blade in the lower door and the characteristic 'shock wave' around the door handles are clearly visible. The signature 'wing' shaped daytime running lights and rear lamps, both using LED technology are also familiar from other models in the ever-expanding Vauxhall range.
Grand Slam's front lip spoiler, side sill moldings and an extended rear bumper cut-out with a visible, bold exhaust tailpipe make the bodywork appear more muscular then a standard Adam. A total of ten body colours and a further four roof combinations are available, with the Red 'n' Roll roof design reserved exclusively for Grand Slam customers.
The Grand Slam sits on exclusive, new 18-inch wheels.The distinctive rear spoiler above the rear window and LED daytime running and rear tail lights complete the look.
Interior
The Red 'n' Roll colour theme is continued inside with the optional leather package including red leather steering wheel, gear knob and handbrake, racing décor on the instrument panel, unique grey/black/red key design and red stitching on the door panels. Other details include special floor mats, aluminum-capped sports pedals and door entry strips with Vauxhall lettering.
A multi-colour LED interior lighting package that allows eight different ambient lighting colours including white, dark blue, orange and red, is also available.
"The Adam Grand Slam delivers fun and performance," said Brit Mark Adams, Vauxhall/Opel's Vice President for Design. "Its bold proportions, slick and seductive design with typical Vauxhall cues and sophisticated surfacing emphasise its sporty characteristics and just make you want to take the wheel. And once you sit in it, you get even more excited by its sporty ambiance paired with high-quality materials and excellent craftsmanship."
Connectivity
Available as an option across the Adam range, the sophisticated IntelliLink system offers state-of-the-art connectivity and apps. This infotainment system is fully-compatible with latest smartphones and tablets using both ANDROID and Apple iOS. It provides USB and Bluetooth connectivity, audio streaming, seven speakers and a 7-inch high-definition colour touch-screen.
The integration of Apple iOS devices into the system enables use of the SIRI EYES FREE voice control function. It's safe and easy-to-use technology which makes Adam one of the best connected small cars on the market. Vauxhall's smart IntelliLink system also provides navigation by the BringGo app, as well as the Stitcher and TuneIn apps.
Powertrain and Chassis
New 1.4-litre Turbo (150PS) ECOTEC with 220Nm of torque
Performance chassis with sharp steering and VXR braking system
Top speed of 124mph and 0-62mph in 8.5 seconds
With 150PS and 220Nm of torque, the new version of the 1.4-litre Turbo ECOTEC unit in the Adam Grand Slam features a specific power output exceeding 100PS/litre. It is a turbocharged, high performance unit derived from the Adam's existing four-cylinder, 1.4-litre engine, that has been exclusively developed for the Grand Slam.
It delivers 50 per cent more power and 70 per cent more torque than its naturally-aspirated 1.4-litre stable-mate and propels the Grand Slam from 0-62mph in 8.5 seconds and to a top speed of 124mph. But the focus during development was put on elasticity and responsiveness rather than pure acceleration. This is particularly noticeable during fifth-gear acceleration from 50mph to 75mph, which is achieved in just 7.9 seconds.
The new 1.4-Litre Turbo engine has been developed to deliver outstanding responsiveness and outstanding mid-range torque making it ideal for winding country roads. A short throw gear change mated to a six-speed transmission allows drivers to fully exploit the performance.
Grand Slam's 1.4-litre Turbo engine is fitted with Start/Stop technology and meets stringent Euro 6 emission standards. The dual cam phasing for continuously variable valve timing and a turbocharger integrated within the exhaust manifold help make the engine lighter and more compact. Other weight-saving features include a cast iron block with a hollow frame structure, hollow-cast camshafts and a plastic intake manifold.
Adam Grand Slam achieves 47.8mpg combined and emits 139g/km CO2.
Chassis
The Adam Grand Slam's chassis has received significant revisions to cater for the increase in the car's performance.
The compound crank rear axle has been uprated, as have all the springs and dampers. Drivers can also deactivate the Electronic Stability Program (ESP Plus) at the touch of a button on the centre console.
Grand Slam's VXR braking system, featuring red bespoke brake callipers, comes from the previous generation Corsa VXR. It features 308mm ventilated discs at the front and 264mm discs at the rear.
Grand Slam is equipped with standard 18-inch alloys with propeller-design rims fitted with 225/35 R 18 tyres.
Range, pricing and equipment
Prices starting from 16,995 on-the-road