Love through the ages at UK's oldest pub this Valentine's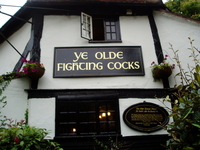 Many pubs in the UK lay claim to being the oldest ale house in the country but there is only one that makes it into the Guinness Book of Records as being the oldest and that is Ye Olde Fighting Cocks in the heart of St Albans' Verulamium Park.
The pub you can see today was built in the 11th Century, but the foundations of Ye Olde Fighting Cocks date back to the 8th Century, around 793. It is reputed that Oliver Cromwell slept at the inn for one night during the Civil War of 1642-1651.
The pub has seen its fair share of budding romances over the centuries, and this Valentine's Day, love will definitely be in the air at Ye Olde Fighting Cocks as the tavern's new head chef Ian Baulsch has devised a sumptuous menu for lovers.
Ian worked under Michelin Star-winning Andrew McLeish at Chapter One for three years before heading Down Under to work with celebrity chef Ian Curley in Australia.
Ian's menu for Valentine's Day is designed to get diners in the mood for love and includes Kilpatrick oysters, char-grilled, 28-day, dry-aged Black Angus fillet and pan-roasted halibut with lobster gnocchi, watercress and chive velouté.
Book the table by the pub's roaring log fire and set the scene for a cosy, winter's tale of love and romance.
yeoldefightingcocks.co.uk