Destination Nürburgring announces 2015 dates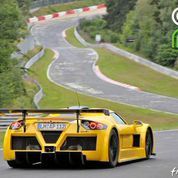 Destination Nürburgring (DN), the premier track day operator for the world's most fabled circuit, has announced the 2015 dates for its closed session, open pitlane Nordschleife experience days.
2015 appears to be a stellar year for DN, with no less than three dates available to allow true petrolheads to sample the charms of this iconic and demanding circuit, free from the distractions so commonly associated with Touristenfahrten (TF) days. So, no bikers to negotiate, no buses to avoid, just a sensible group of fellow track enthusiasts with one clear focus; to learn and enjoy the track and have a good time.
Dates
DN11 kicks things off on Wednesday 1st and Thursday 2nd April. A real - and rare - treat for regular 'Ring devotees with the full VLN layout being available on both days. This means full access to the Nordschleife, with the added playground (and enormous run-offs) of the new VLN circuit. A great way to learn the full track and get to grips with your chosen steed. Price per place GBP 1000.
DN12 runs on Wednesday 22nd and Thursday 23rd July, and again offers the VLN layout on both days. Price per place GBP 1300.
DN13 will be held on Wednesday 30th September and Thursday 1st October and uses the much-loved Nordschleife, or 'North Loop' layout. This is priced at GBP1100.
For those looking to get intimately acquainted with the venue's many twists and turns, and who also know value when they see it, DN is also offering a strictly limited 'Ringmeister' ticket that gives access to all three 2015 events at the very special price of GBP 2899.
All of these events offer unparalleled value for money, with totally unlimited, un-sessioned track access on all days, flying laps with no barriers, as well as free tuition from some of the region's most talented and experienced racing drivers (by prior arrangement).
Better yet, laps are totally unlimited, with a relaxed 'open pitlane' environment ensuring that everyone gets the track time, or down-time, that they need to really enjoy each event. The icing on the cake? Each guest will receive free photography from their chosen event from the 'Ring's finest snapper, Frozenspeed. That's your Facebook cover photo sorted then!
As always, places are strictly limited to ensure track safety, so interested parties should immediately click to destination-nurburgring.com to book.
For more information, visit destination-nurburgring.com.