Spring moments in the National Forest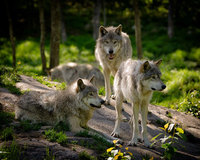 Bottle-feed tiny lambs, explore dazzling bluebell woods, enjoy festivals galore – there are lots of moments to treasure and magical memories to create on a spring visit to the National Forest & Beyond. Here are ten ideas to get you started – download a Visitor Guide for many more!
1. Woodland hideaway opens
Rediscover the simple fun of childhood holidays as they used to be, at the National Trust's Stoneywell, in the Charnwood Forest, part of The National Forest. This rare Arts & Crafts cottage, built in 1899 by Ernest Gimson as a summer home for his brother's family, is now open for adventure. And as spring daffodils and bluebells helter-skelter around the woodland hideaway, it's a perfect time to visit.
With its curious zig-zag roof, giant chimneystack, and twisting stairs to rooms filled with original handcrafted furniture and 1950s toys, this is a storybook come to life. Let the kids loose for a garden scramble and outdoor games of hide-and-seek – they'll be back for Granny Gimson's flapjacks in the Laundry tearoom. (Please note that visits to Stoneywell need to be pre-booked.)
2. Lambs, early birds and Superworm
You know spring has sprung when perky lambs begin to leap! Capture some precious animal magic from February through March by taking children to bottle-feed woolly youngsters at the National Forest Adventure Farm, Tatenhill. Lambing events at Calke Abbey, Ticknall, over the last two weekends in March, include the sight of lambs frolicking with their mums in the Kitchen Garden – take your camera.
Elsewhere it's a time for early birds and catching worms. Rise and shine for the Dawn Chorus Walk with an expert at Rosliston Forestry Centre on 2nd May (booking essential) – you could tweet about the 5am twittering! Or switch on the kids' 'superhero' nature detective powers as they get on the brand new Superworm activity trail at Hicks Lodge: The National Forest Cycle Centre near Ashby de la Zouch (from 13th March).
3. Bluebells and breathing spaces
What more refreshing sight to awaken the senses than swathes of bluebells in ancient woodlands: sudden bursts of colour and life in the mysterious underworld of trees. Take a deep breath of cool woody air and explore Jackson's Bank: part of the ancient Forest of Needwood, it comes alive with seas of luminous blue from April into May, along with other heralds of spring like musky wood anemone, early purple orchid, herb paris and clusters of wood spurge.
Find further soul-stirring walks where bluebells thrill at ancient Burrow Wood(part of Charley Woods Nature Reserve), Outwoods and Swithland Wood.
4. Easter magic – and surprises
We've Easter egg trails galore around the National Forest & Beyond, and also plenty of temptations with a twist, like meeting the Easter Bunny on the Easter Bunny Express down at the Great Central Railway – with free sweets for all boys and girls (7th–9th April).
The whole school holidays (28th March–19th April) are jam-packed with entertainment at Conkers, Moira, from Wizards Whirlwind Shows to Sensory Art, and don't miss the Surprise Easter Egg Challenge with lucky-dip prizes after hunting for clues through the wood (13th–19th April).
Kids go free at The National Brewery Centre's Easter Family Weekend (5th–6th April), where you can watch shire horses and sheep racing, as well as hit the Easter egg trails.
Check out lots more eggs-travaganzas and holiday activities at Ashby de la Zouch Castle, Calke Abbey, the National Forest Adventure Farm, Rosliston Forestry Centre and Sudbury Hall.
5. May for motors, music and medieval knights
There's a cracking pace to our May and Spring Bank Holiday Weekends, no more so than at Donington Historic Festival (2nd–4th May) where the whiff of burning rubber and roar of motor racing from the 1930s to the 1990s are guaranteed to raise the pulse. Daydream over the Donington Grand Prix Collection, the largest in the world, and then return for another adrenaline spike at the eni FIM Superbike World Championship (22nd–24th May).
The Classic Car Show (3rd May) at Catton Hall may be a little more sedate, but the Bearded Theory Music Festival here (22nd–24th May) brings a throbbing line-up of acts from the Buzzcocks to The Beat. The award-winning family festival is brilliant for kids too, with a Village Green featuring an old-fashioned sports day, magic shows, ribbon dancing and other evocative entertainments.
If you prefer action from the Age of Chivalry, medieval fighting knights clash at Ashby de la Zouch Castle over the same weekend (24th–25th May),
6. Celebrating canal, crafts and steam
Fancy meeting Vikings, Morris Men, Mr Juggler and a ukelele band? The banks of the restored section of the Ashby Canal at Moira Furnace Museum will be bustling with colour – and boats – during the 15th annual Moira Canal Festival (16th–17th May). The canal was completed in 1804 to carry coal and today's navigable stretches are popular with boaters. Drop into the museum – originally a 19th-century iron-making blast furnace – to find out more about local industrial heritage and take a trip in a renovated canal boat.
The rich heritage of local industry and creativity can also be relived during steaming days at Easter and May/Spring Bank Holidays at Claymills Victorian Pumping Station. And there are fabulous free family craft and pottery workshops (30th March, 9th April) at Sharpe's Pottery Museum in Swadlincote.
7. Feet first at the National Forest Walking Festival
Whether you're a gentle stroller or seasoned strider, you'll find plenty to appeal at the National Forest Walking Festival (16th–28th May). Friendly company, great scenery, welcoming pubs and places to stay for a break, plus over 70 themed and guided walks, mostly free: there's everything you need to literally put spring into your step.
Routes are graded from easy to strenuous, with history, nature, woods and rivers all at the tip of your toes. Wonderful introductions to the long distance National Forest Way include a 12.5-mile circuit from Ticknall via lovely villages and old houses, and an 8-mile ramble along canal and up hill for views over Burton upon Trent. Make a weekend of it with a ramble from Ashby de la Zouch to Melbourne or Hartshorne to Melbourne.
8. Free your wild adventurer
Come for the day or camp for the weekend, meet intrepid adventurers, go foraging, make a beadwork necklace with a Maasai woman: The Bushcraft Show, 23rd–25th May at Beehive Farm Woodland Lakes, Rosliston, is bursting with excitement for all the family. Turn a nettle into cord, discover how to track animals, thrill to Green Man Storytelling – a walk in the woods will never be the same again.
And how about a bit of outdoors bonding on a Family Bushcraft Day with Woodland Survival Crafts, or try your hand at Wild Food and Wilderness Cookery? Courses take place in the fresh air of aptly named Spring Wood, on the Staunton Harold Estate. With master craftsman Peter Wood of Greenwood Days you can learn to weave garden willow features or create anything from a candlestick to an egg cup on a pole lathe.
You can always get back to outdoor basics with Field Sport UK too: fun, have-a-go archery, fire-making and bushcraft survival activities are just for starters.
9. Stay closer to nature: family breaks
Leave all the hi-tech gadgets behind and re-wild the kids on a family adventure break, sharing simple, natural, down-to-earth fun.
See their eyes light up when they find they'll be sleeping in a secret wooden cabin in a vintage-style canvas cottage at The Dandelion Hideaway, Osbaston. Glamping down on this working family farm, you can wake up to bird song, collect fresh eggs from the farm's hens, watch goats being milked and toast marshmallows over the campfire. From April children can also enjoy Pony Day Camps, learning how to handle the farm's legendary Shetland ponies, with ménage work in the afternoon.
Go free range at YHA National Forest, Moira, too: the eco-friendly hostel is into harvesting rainwater and sunshine, making your stay easy on the environment, while prices are easy on the pocket. Combine a family stay with a day pass to Conkers – 120 acres of woodlands, lakes and adventure all within walking distance – for £80.
Alternatively, re-tune to nature staying in timber Forest Lodges at Rosliston Forestry Centre: the events calendar at the centre brims with family activities including Springwatch.
10. Escape and pamper breaks
Experience that moment when the world stops and you step off into timeless bliss. At Hoar Cross Hall Spa Hotel, Burton upon Trent, they call it Escape to Paradise and Heavenly Escape: two gorgeous getaways to balance body and mind. At the health club and spa at St George's Park, you're invited to Switch Off, make a Fresh Start, or Bounce Back, and at Champneys Springs, Ashby de la Zouch, Easter Spa Breaks are pure, nourishing me-time with massage and pampering treatments.
Also look out from April for the new Marco's New York Italian by Marco Pierre White, opening at Best Western Premier Yew Lodge Hotel, Kegworth. Serving Italian/American food in a relaxed setting – pizzas, pasta, Marco's special BBQ ribs and lazy fries – it's the hottest table in town.
Download a Visitor Guide for lots more special moments to enjoy and magical memories to create on a spring break in the National Forest & Beyond.
For more information, visit nationalforest.org/visit/downloads/visitorattractionsguides.php