UK men outspend women on last bag purchase by over £40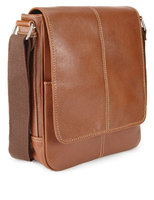 As the nation's attention falls on London Fashion Week, eyes will be fixed on the new creations of fashion's biggest players. But whilst for many the top-dollar prices of designer apparel may be out of reach, for the UK's men, when it comes to bags at least, it seems they are prepared to flash the cash. New research from Mintel reveals that of those that have bought a bag in the past year the average man spent a hefty £105.80 on their last purchase, compared to an average of £63.70 for women.
Whilst it is the minority of men who have bought a bag in the past year, it seems that when they do loosen their purse strings it is for gift-purchasing, as men are more likely to buy a handbag rather than manbag. In the past 12 months, one in five (20%) men have bought a handbag and one in 10 (10%) a manbag. And while a third (32%) of women who have bought a handbag in the past year agree that they make good gifts, 11% of men agree the same.
Furthermore, it seems that when buying for themselves, while women go for own-branded handbags, men trade up to the designer manbags. Of those that have purchased a bag in the past year, 21% of women have bought an own-branded bag, trumping the proportion of women buying designer bags (13%). In comparison, 14% of men who have bought a manbag have bought an own-branded item, but 17% have opted for designer.
Tamara Sender, Senior Fashion Analyst at Mintel, said: "Gifting is very important to the handbag market and given that men are inclined to spend more than women when buying handbags, this highlights the scope to help men with the handbag gift buying process. Retailers could offer a personalised gift shopping service allowing consumers to speak to a personal shopper via an online chat who can recommend potential handbags that would suit their partner or whoever they are buying for."
Handbags remain Britain's favourite fashion accessory, with 18% of women having bought a handbag in the past three months, making women more likely to have purchased one than scarves, belts, hats or costume jewellery. Mintel estimates that the handbag market has grown by to £1.3 billion in 2014, up 9% from £1.2 billion in 2013. Furthermore, Mintel forecasts the market to grow even further to reach £1.9 billion by 2019.
Whilst 61% of women and 26% of men have bought a bag over the past year, one in 10 (10%) men and 7% of women have bought a manbag specifically. Suggesting that the manbag could be here to stay, today almost one in 10 (8%) men say they carry a manbag with them most of the time, rising to 15% of London men and 18% of men aged 18-24.
"Whilst manbags in the past have been met with mockery, men have now begun to see the item as acceptable to wear most of the time and as they become accustomed to the practicality of using a manbag they are likely to continue to use them as they age." Tamara continues.
For those trying to get a handle on what men look for in a manbag, one in eight (15%) men mainly use a manbag for when they're going to work, whilst one in 10 (9%) say they like to buy leather manbags. In addition, 8% of men say they would be interested in buying a manbag with the latest innovation, rising to 14% of 16-24's.
For women, it seems it is size that really matters. Of women who have purchased a handbag in the last 12 months, a quarter (24%) say the size of the bag counts followed by the design (16%) and a fashionable style (12%). Six in ten (58%) women have bought a handbag in the past 12 months, 40% have bought a medium handbag, 20% have bought a large handbag and 17% have bought a small handbag.
Moreover, when it comes to differences in demographic purchasing, Mintel's research finds that it is younger Brits who are the biggest spenders. Of those that have purchased a bag in the the past year, the average consumer aged 16-24 spent £100.90 whilst those aged 25-34 paid £100. In sharp comparison, those aged 35-44 spent £67.90, 45-54's £58.10 and those aged over 55 paid £45.20.