Discover one of the most important kingdoms in Welsh history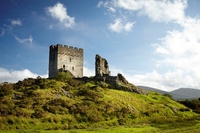 The Princes of Gwynedd traced their royal line back to ancient times and became the most powerful dynasty in medieval Wales. Their kingdom stretched from the fertile lands of Anglesey to the soaring peaks of Snowdonia and at one point expanded to cover much of Wales.
For more than 800 years, the princes fought with one another and the English Crown to secure their positions of power. But this was not just a time of war and turmoil - the princes also forged strong cultural and religious links with continental Europe and were patrons of beautiful architecture, music and poetry.
The Princes of Gwynedd Exhibition can be visited at Conwy Tourist Information Centre and audio tours are available at some of most important sites in Welsh history including:
Dolwyddelan Castle
The Dolwyddelan Audio Tour takes you back to the time of Llwelyn the Great, Wales' most powerful medieval prince. It is thought that he was born close to Dolwyddelan Castle. He was certainly responsible for building this fortress in the early 13th century, one of a string of native strongholds in Snowdonia. He chose his spot well. The solid rectangular tower, restored in Victorian times, is perched on a prominent ridge, commanding a strategic pass through the mountains.
Gwydir Chapel
Gwydir Chapel in Llanrwst is another compelling historic site. The chapel, part of beautiful St Grwst's Church, contains remarkable monuments, the most noteworthy of which is the elaborately carved stone coffin of Llywelyn the Great, who died at Aberconwy Abbey in 1240. In the church itself look out for the glorious carved rood screen, possibly brought here from nearby Maenan Abbey in the 16th century.
Aberconwy Abbey
The present-day parish church of Conwy stands on the site of a once-great Cistercian Abbey. Llwelyn the Great, an enthusiastic patron, was first buried here before his bones were removed to an unknown location.
Deganwy Castle
Soak up the stunning sea and mountain views from this ruined seat of the rulers of Gwynedd, dating back possibly as far as the 6th century.
Best website to use is: visitllandudno.org.uk/heritage
Other Historic Sites In Conwy Town Include:
Conwy Castle
Conwy Castle is a World Heritage Site constructed by the English monarch Edward I between 1283 and 1289 as one of the key fortresses in his 'iron ring' of castles to contain the Welsh.
cadw.wales.gov.uk/daysout/conwycastle/
Conwy Town Walls
Walk the exceptionally well-preserved walls (one of the reasons why Conwy is a World Heritage Site) and gaze down into a tightly packed town, crammed with historic houses, laid out on a medieval street pattern that has changed little over the centuries.
Plas Mawr
The UK's best preserved Elizabethan town house.
cadw.wales.gov.uk/daysout/plasmawr/
Aberconwy House
This is the only medieval merchant's house in Conwy to have survived the turbulent history of the walled town over nearly six centuries.
Furnished rooms and an audio-visual presentation show daily life from different periods in its history.
nationaltrust.org.uk/aberconwy-house/
Smallest House in Great Britain
The Smallest House in Great Britain is just 72 inches wide by 122 inches high. It was occupied right up until May 1900, and ever since it has been visited and marvelled at by thousands of people from around the world. The last person to live in the house was a local fisherman called Robert Jones (who also happened to be 6 foot 3) - before Mr Jones an elderly couple lived there. The house may be small but it's extremely practical - there's just enough room for a single bed, a fireplace and a coal bunker.
thesmallesthouseingreatbritain.co.uk/
Accomodation:
Conwy Castle Hotel
The Castle Hotel Conwy, an old coaching inn in Wales, stands on the site of a Cistercian abbey and used to consist of two famous hostelries, The Castle and the 15th Century King's Head. The Castle was by far the larger and in Victorian times had an attractive face lift of local granite and Ruabon brick and is now one of Conwy's most photographed buildings.
This popular Hotel in Wales offers individually designed accommodation. The hotel has 28 bedrooms to the AA and Visit Wales' exacting 4 Star Town House standards with a 'boutiquey' feel. Room prices vary depending on size and type of room. There are Club, Premium, Deluxe, Historical 4 Poster room (complete with 16th C bed!) and a Deluxe Suite to choose from.
Rates: Double room at a weekend costs £80 per person per night inc. bed and breakfast
castlewales.co.uk
Deganwy Quay & Spa
Meticulously designed throughout, the Quay Hotel & Spa in Llandudno, North Wales epitomises cool sophistication on the North Wales Coast. The moment you enter the 4 star hotel in Deganwy Quay you are welcomed into a world of comfort and a sense of belonging.
Set on the idyllic Conwy Estuary, the 4 star Quay Hotel commands awe-inspiring views of the most magical scenery in North Wales and is located within easy reach of Snowdonia National Park, the neighbouring medieval town of Conwy and Victorian Llandudno, all within close access from Chester and the North West: "One Hour's Drive and Million Miles Away…"
Rates: Double rooms from £280 inc. bed and breakfast at a weekend rate (Friday and Saturday)
quayhotel.co.uk