Time to shoot to thrill with a walking photography tour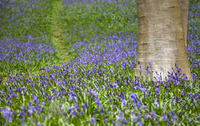 If the selfie is becoming a bit of a yawn, then now is the ideal time to sharpen up those photo shooting skills before the holiday season with a walking photography tour.
Yorkshire's Walking Photographer, aka Rich Bunce, is running a series of photo walk tours during 2015 using the idyllic Ilkley Moor and the surrounding Dales countryside as the scenic backdrop.
During each tour, professional photographer Rich takes guests on a 2-3 mile ramble and shows them how to best capture the surroundings through the lens, including offering simple tips to create a better photo composition and using light to its best advantage.
"Even people who only have a point-and-shoot instant camera, smartphone or tablet can get a lot more out of the devices by mastering some simple techniques that will transform holiday snaps into images that are truly share-worthy," Rich explains.
"With so many opportunities to take photos and share those images on social media, we're finding a ready demand among people who are keen to perfect their camera skills."
The first two Walking Photographer tours run on 26th April and are designed to capture the highlights of spring:
The Bluebell Woods Photo Walk. This tour lasts 2.5 hours and will demonstrate the techniques to capture one of nature's most spectacular wildflower displays.
Cost: £30 per person using their own camera, tablet or smartphone.
The Ilkley Moor Photo Walk. During the course of 3.5 hours, guests will be able to hone their camera skills following a route that takes in the diverse terrain, historical carvings such as the Idol Stone and offers plenty of opportunities for snapping the wildlife.
Cost: £45 per person using their own camera, tablet or smartphone.
For more information, visit walkingphotographertours.com.