Roman extravaganza on offer from Ravenglass and Eskdale Railway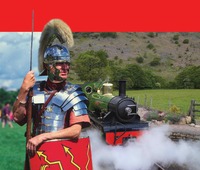 Ravenglass and Eskdale Railway's stations will become amphitheatres for legions of visitors wishing to explore Roman history on May 2 and 3 – or, to put it in context, II-V-MMXV – III-V-MMXV – as the 15-inch narrow gauge railway transports families back to Roman times.
The Lake District-based steam railway, whose seven-mile line runs between coastal Ravenglass on the Lake District coast, to Dalegarth, in the shadow of England's highest mountains, is staging a Roman History Weekend over the first May Bank Holiday.
At no extra charge to the standard fares charged for travel on the exquisite steam railway, families can enjoy a feast of Roman-themed activities, at Ravenglass Station. A Roman soldier, wearing shiny armour and brandishing his sword and shield will await those arriving at Dalegarth. Having taken pictures of this mighty warrior, children can make their own Roman torc bracelet – the Roman equivalent of a bangle – and also create their own Roman dogtag – a means of identifying soldiers.
There will also be a dressing up box, to enable kids to get into Roman costume, when they are not exploring the shop, tucking into home made treats in the café or having fun in a children's playground opened by HRH Princess Alexandra. Facepainting will also be available for a small charge, on Platform 1, to allow kids to take on a disguise and fool the Romans!
At Ravenglass, there will be guided beach and Roman bathhouse walks, departing twice a day May 2 and 3, led by the Eskale Ranger, Chris Berry. These will explore the importance of coastal Ravenglass to Hadrian's Roman Empire, as both a naval base and supply point.
Visiting the bathhouse of Glannaventa will let families see and learn about one of the most completely preserved buildings in Roman Britain. They will be transported back to a time when it housed hot saunas, cold baths and an underground heating system, as they listen to the interpretation of this archaeological and historic treasure.
The cost of a Ravenglass and Eskdale Railway ride all day return ticket is £13.20 for an adult and £6.60 for a child. A family return ticket costs £37.00 for two adults and two children. Ride all day tickets qualify for a 50% voucher to visit sister attraction Ullswater Steamers another day. Single adult and child fares are also available at £7.50 and £3.75 respectively.
The journey time between stations takes around 50 minutes, with the train travelling across the coastal plain, past imposing Muncaster Fell and through hidden Miterdale and Eskdale, before arriving at Dalegarth. Lots of scenery and wildlife can be viewed during the 7-mile trip (14-mile return trip).
The first departure from Ravenglass is a diesel train at 9.25am. The first steam train leaves at 10.25am and the last at 5.50pm. The first departure from Dalegarth is a diesel service at 10.30am, followed by an 11.50am steam train. The last steam train back to Ravenglass is at 5.30pm and the last diesel service is at 6.40pm. Ten services operate each way each day, roughly an hour apart.
More information and tickets are at ravenglass-railway.co.uk.