If dog lovers go down to Crown Wood today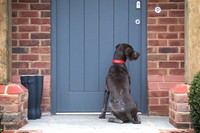 As the nation's pet obsession reaches its peak during National Pet Month (1st April – 4th May), specialist developer Millgate is offering the perfect pet-lovers paradise in West Sussex, offering the best of creature comforts for the whole family.
National Pet Month is a chance for UK pet fans to come together and celebrate life with their pets, whilst also an opportunity to remind ourselves of how important it is to look after pets responsibly and to support the work of the many pet charities around the UK.
With just over 9 million dog owners in the UK, that's about 24% of households, finding the ideal home to suit both the owner and their beloved pet can be difficult. Secluded within 165 acres of woodland in the King Edward VII Estate is Millgate's newly opened Crown Wood development in Midhurst, West Sussex. The spacious five bedroom properties are especially favourable for dog owners who enjoy long walks in the countryside.
Comprising just eight prestigious houses inspired by the Arts & Crafts style, each property offers vast accommodation ranging from 3,500 to 4,800 sq ft, with five bedrooms and triple garages, set in sizeable individual landscaped gardens fringed by mature trees.

Jonathan Cranley, sales and marketing director of Millgate comments: "Finding that special family home is not easy, and for those with pets, the choice can sometimes be very limited. Crown Wood is set in such a rare location making it ideal for those who wants to escape the hustle and bustle of the city. It's naturally perfectly placed for dog lovers, and with stables and a polo club nearby, those with horses will be spoilt for choice with extended bridleways across the estate. We hope a visit to the show home will inspire future homeowners here of what adventures they, and their pets, can have in these homes."
Michael Bellingham, Chairman of National Pet Month said: "We're delighted that Millgate is helping build awareness of National Pet Month this year, as well as houses! Responsible pet ownership is one of the key messages of National Pet Month and we would encourage all new home owners to think about the needs of their pets when choosing a new place to live.
"Responsible dog owners should ensure their canine companions are given the opportunity to exercise regularly and within a safe and secure environment. So, always allow time in your day to walk your dog and, when choosing a property, think about the type of garden or outdoor area which would be suitable for you and your four legged friend to enjoy.
"By taking these simple steps you and your canine companion will hopefully be able to look forward to many safe, happy and healthy years together."
The Sarsgrove show home is a wonderfully designed five-bedroom property boasting a wealth of luxury for those looking for an idyllic and fulfilled lifestyle. On the ground floor, a grand entrance hall leads to a traditional dining room, expansive drawing room, separate study and a large open plan kitchen, family room and orangery with adjoining utility.
On the first floor, the property features four double bedrooms, two with en suites and an impressive master bedroom with it's own dressing area and en suite. It's also here that there is access to a private terrace. Each property features a specially designed and stunning landscaped garden, accessed by side access and French doors leading out from the drawing room and orangery on the ground floor.
Crown Wood is set within the King Edward VII estate, which is undergoing restoration and will offer a range of lifestyle facilities that buyers will be able to take advantage of. At the heart of the estate is a stunning collection of listed buildings, once the King Edward VII Sanitorium. Plans include a swimming pool, tennis courts, gym and concierge service. A community shop/café will be housed in the Grade II listed former chapel, offering a charming space to socialise as well as provide easy access to basic groceries, and the original grand dining room will become an event space.
The restoration of the estate's gardens also ties with the Arts and Crafts theme at Crown Wood. The gardens were designed by 19th century landscape designer, Gertrude Jekyll who spent many years working alongside influential English architect Sir Edwin Lutyens, leading light of the Arts and Crafts movement. The gardens will be meticulously restored for all to enjoy.
Crown Wood is set in the magnificent South Downs National Park, close to the charming market town of Midhurst, which is a gem of historic architecture. Paths and bridleways extend across the county — providing breaths of fresh air to walkers and off-road cyclists. Nearby Cowdray Park Polo Club is home to the British Open Championships and the Goodwood Estate with is world famous Goodwood Festival of Speed.
Although situated in peaceful parkland surroundings adjacent to Midhurst, Crown Wood is well positioned for travelling, as the A286 runs through the town, north to Haslemere and south towards Chichester. The A272 provides westward links with Petersfield and the A3, with Billingshurst in the east. The nearest rail station is Haslemere (6 miles to the north), which is on the London Waterloo to Portsmouth line.
Prices at Crown Wood start from £1.6 million. For more information or to book a viewing to see the show home, email crownwood[at]struttandparker.com or visit millgatehomes.co.uk.