Time to get back in the saddle: Cycling in the Cultural Heart of Germany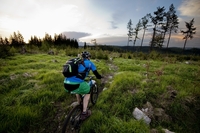 Not a beach bum? Bit of an active type? The Cultural Heart of Germany region of Saxony, Saxony-Anhalt and Thuringia might be the right summer holiday destination for you then, offering thousands of miles of cycling trails - off the beaten track and with the added bonus of cultural sites and picturesque towns along the way.
For stunning scenery, try the Elbe Cycle Route along Germany's second-longest river. The Saxony and Saxony-Anhalt stretch takes you from Saxon Switzerland's sandstone mountains and past Dresden to picturesque towns such as Torgau, Wittenberg or Dessau. Apart from the natural attractions, cyclists on this route can also enjoy a line-up of UNESCO World Heritage Sites with the Bauhaus and Master Houses in Dessau-Roßlau, the Garden Kingdom of Dessau-Wörlitz as well as the attractions related to reformer Martin Luther in Lutherstadt Wittenberg.
Another splendid culture-nature combination can be found in Thuringia where a special cycle route connects a number of towns and cities, including Eisenach and the Wartburg, Erfurt and Weimar. If you're fond of idyllic river landscapes, Thuringia also features a number of tours along lesser known rivers such as Werra, Saale, Unstrut or Ilm. None of them are very strenuous and therefore perfect for cyclists not too keen on overdoing it. There are also a number of more challenging routes, such as in the Harz Mountains in Saxony-Anhalt or the Rennsteig Cycle Trail, running almost parallel to the famous hiking train through the Thuringian Forest.
If you're into off-road biking, Saxony has something special on offer with the Stoneman Miriquidi. As the German Stoneman, it is part of the Stoneman MTB Marathon World Series, was launched in 2014 and, on a good 100 miles, features the Ore Mountains' highest peaks. Climbing the altogether nine mountains is not for the faint-hearted, however, the ones who conquer the trail will be rewarded with stunning views and a trophy. The Ore Mountains are ideal MTB terrain and Germany's first singletrail park was also opened here in 2013: Trailcenter Rabenberg near Beitenbrunn offers four routes, including a taster loop for beginners and the 'Black Raven' tour for the pros.
Last but not least and after so much effort, let us point out another example that perfectly embodies being active in combination with enjoying the good things in life: The Saale Cycle Route runs through Germany's northernmost wine-growing area Saale-Unstrut and attractions on the way include the beautiful old town of Naumburg, with its cathedral and treasure – plus the odd glass of wine. Enjoy!
Travel information:
Easy access to the Cultural Heart of Germany with Cityjet from London City to Dresden, Germania from London Gatwick to Erfurt-Weimar and Ryanair to Leipzig. All major airlines to Berlin.
For more information, visit culturalheart.info