Private weather consultancy launches giving confidence boost to sailors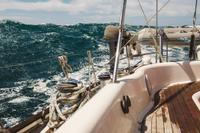 Last month saw the launch of Weather4Marine, a division of new private weather consultancy MeteoGib. Based in Gibraltar, an area known for its changeable climate and lively winds, the Company aims to enhance safety at sea with bespoke weather forecasting and routing.

Stephanie Ball, a professional meteorologist with a 28-year Met Office career under her belt, and 18 years experience marine forecasting, is behind the consultancy, "As Benjamin Franklin said, by failing to prepare, you are preparing to fail, and nowhere is this more important than at sea. Whether pre-planning a route for a long passage or bringing the forecast directly to a mobile, sat phone or tracking device, Weather4Marine is there to enhance safety and ensure smooth sailing. If stormy skies blacken the horizon or a wind kicks up unexpectedly, we will be there for support and advice."
Having delivered forecasts for two of the world's busiest shipping lanes – the English Channel and the Strait of Gibraltar – Stephanie is more than familiar with the vagaries of the weather. A keen boater herself, she has routed yachtsmen through the Med, provided forecasts for cross-channel ferries, been a key part of the weather team for Cowes Week and on the organising committee for the Gibraltar-Morocco Rally for the past two years.
Stephanie continues, "Working in Gibraltar over recent years, I have informally given advice via my Twitter feed @MeteoGib, notifying the local sailing community of hazards such as sea fog and impending gales. Weather4Marine formalises this on a much wider international scale. We're looking to work with large shipping lines, yacht delivery companies and solo leisure boaters - with safety specifically in mind. Users in remote areas where access to weather data becomes troublesome, or boat owners who feel less confident using GRIB data or doing their own forecasting, will find our services especially invaluable. We will keep an eye on their position through their tracking device and send forewarning of any adverse weather conditions en route."

In 2014, MeteoGib routed sailing yacht Wild Goose from Gibraltar to Grenada. Skipper Hugh Moore said, "MeteoGib provided the bigger picture of the weather affecting our path across the Atlantic, and for 3,000 miles we were able to sail in confidence that we would be prepared for whatever came our way". Meanwhile earlier this year they routed sailing yacht Yanosha from Gibraltar to the Canary Islands, and on to Antigua. On safe arrival in the Caribbean, skipper Matt Sulley said, "Thanks so much for all your help with the weather and keeping us up to date with the outside world. It has been very much appreciated by me and all the crew…I hope we can do this again."
For more information, visit weather4marine.com.