And then there were three: Third super yacht added to fleet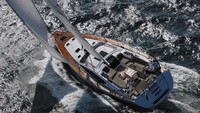 Following a successful launch in 2015, Super Yacht Holidays has just added a third yacht to join its two sister vessels in the Greek Islands for summer 2016.
Spotting a gap in the market – between the budget bareboat/flotilla holidays at one end and the super-expensive luxury charters at the other – the first yacht, the 65 foot Argentous, was launched in 2015 as a way of offering sailing holidays to 'non-yachties' who would like to try a sailing holiday without sacrificing the creature comforts of a good hotel.
Argentous boasts air-conditioned cabins, luxury bathrooms, a speed boat with accompanying 'toys' (water skis, etc.) and, most importantly, a private skipper and a chef to look after a maximum of eight guests (the staff have their own private living quarters at the front of the boat).
The second boat was Aurous, a luxury catamaran for up to 10 guests, and the latest is Jeannous, a 57-foot yacht aimed at families and smaller groups of up to six people. All three yachts have the same facilities and offer the same services for guests.
Comments founding director Alisdair Luxmoore: "Sailing has long been considered as an elitist pastime exclusively for the privileged or the salt-encrusted. Our strategy is to make it as accessible as skiing and, with the addition of our third boat, we are now able to introduce even more people to the joy of sailing in comfort surrounded by the beauty of the Greek Islands.
"The first season with Argentous could not have gone any better and it soon became clear that there was scope to expand the fleet.
"With the latest addition being targeted towards families and small groups, it broadens the overall appeal of this new take on sailing holidays, which combines comfort with an opportunity to learn how to sail a beautiful boat, or just relax with a gin and tonic."
Jeannous and Aurous will be based with their sister yacht in the Ionian Islands from spring until October 2016, with a week's stay costing from £980 per person, half board or £490 for a three-night break.
At certain times of the year, it will be possible to book individual cabins from £1080 per person (two sharing) for a week's stay.
Flights and transfers extra. Bookings are managed by fleewinter.com. Details of the yachts can be seen at argentous-yacht.com, aurous-catamaran.com and jeannous-yacht.com.