Santa Monica unveils new budget-friendly itinerary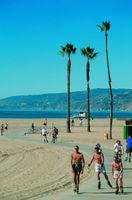 Although Santa Monica's shinning beaches and celebrity-dotted neighborhoods emanate the distinct feel of laidback luxury, Santa Monica Convention & Visitors Bureau's (SMCVB) recently launched budget-friendly itinerary makes it more possible than ever to enjoy a beachside getaway without breaking the bank. The three day, two night 'beach chic on a budget' itinerary uses insider knowledge to highlight how visitors to the city can experience a quintessential Santa Monica stay for less than $600.
The brand new itinerary begins with checking into one of the city's budget-friendly hotels to discover that accommodations in Santa Monica can be surprisingly affordable. With starting nightly rates at under $200, guests can enjoy stays at Bayside Hotel, Best Western Santa Monica, Hotel California, Cal Mar Suites, Comfort Inn, Days Inn, and Hostelling International Santa Monica during their visit. At these properties, guests will experience perks like luxurious locations, art and design-focused décor, accessibility to Santa Monica's famous beaches, pier, shopping, dining and leisure activities, and free breakfast, parking and high-speed Wi-Fi.
With their hotel property as a base, visitors will enjoy a comprehensive Santa Monica experience that will expose them to the city's famous beach, arts and culture, dining, entertainment and wellness scenes without deviating from a strict budget. Itinerary activities include:
Ride the Big Blue Bus from Los Angeles International Airport into Downtown Santa Monica for $1.
Take in stunning coastline views with a ride on the Pacific Wheel on the Santa Monica Pier for only $5.
Soak up the sun along Santa Monica's 3.5 miles of broad, glistening beaches.
Get around like the locals do – on the seat of the bike – with full-day bike rentals from Santa Monica Bike Center, from $30 a day.
Visit Bergamot Station, home to one of the largest collections of art galleries in the nation, for a free visit into the epicenter Santa Monica's arts and culture scene.
Spend a relaxing morning at Cha Spa, where a full body hour-long massage on the idyllic Montana Avenue costs a mere $35.
Enjoy elusive Hollywood glamour and $5 happy hour drinks in the lap of luxury at Hotel Shangri-La's Suite 700, Santa Monica's only open-air rooftop bar and lounge that effortlessly blends a timeless Art Deco design with world-class ocean views.
Get in a free workout at the original Muscle Beach, where an extensive gymnastics training area makes it easy to get fit at the birthplace of the 20th century fitness boom.
Stock up on healthy and locally grown snacks at the famous Santa Monica Farmers Market.
At the end of their stay, visitors will have an extra post-vacation glow knowing that they achieved a luxurious beachside getaway without the superfluous price tag.
For more information on how to experience a beach chic getaway to Santa Monica on a budget, visit santamonica.com/visitors/plan-your-trip/sample-itineraries/.