Fitspiration: Amazing gym hotel views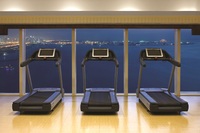 Many of us struggle to motivate ourselves to visit the gym in our day-to-day lives, let alone when we're on holiday or visiting a new city. However, many hotels offer state-of-the-art gyms, boasting new technology, spacious work-out areas and incredible views from the floor-to-ceiling windows.
The latter category is the focus of this round-up from hotel comparison website trivago.co.uk, featuring ten hotels with amazing views. From views of the world's most famous cities to coast lines and landscaped gardens, these gyms might become the next item on your holiday checklist. Who knows, you might even enjoy running on that treadmill…
1 Burj Al Arab Jumeirah – Dubai, United Arab Emirates
Jumeirah's Burj Al Arab is often found on hotel round-ups, perhaps because it really does have everything. Talise Spa is no exception, featuring separate male and female areas complete with indoor infinity pools, Jacuzzis, saunas, steam rooms and plunge pools. Talise Fitness offers a fitness centre with aerobic facilities and advanced cardiovascular and resistance training equipment. The real draw, however, it the view: situated 150 metres above the Arabian Gulf, the health and fitness facilities boast floor-to-ceiling windows fitted with rare fog-proof glass, so guests can enjoy the view of Downtown Dubai even from the sauna and steam rooms.
2 La Mamounia, Marrakech, Morocco
La Mamounia is a 90-year-old Moroccan institution, welcoming the likes of Winston Churchill in the past and boasting a 20-acre park in the middle of a bustling city. The Fitness Pavilion is located in the heart of these gardens, utilising large windows and mirrors in order to offer 360° views of the greenery, which includes 100-year-old olive trees. Other wellness facilities include an indoor and outdoor swimming pool and a 2,500 square metre Spa, renowned as the best in Marrakech.
3 Taj Campton Place, San Francisco, USA
Taj Campton Place prides itself for both its location (overlooking the prestigious Union Square) and its personalised service, offering guests both privacy and comfort. The ninth-floor open-air fitness terrace is no exception to this rule, allowing guests to exercise in the fresh air while enjoying unique views of Union Square and the city. For the utmost convenience, the gym is open 24/7 and the exercise equipment features iPod connectivity.
4 Turtle Bay Resort, Oahu, Hawaii
Turtle Bay Resort is located on the North Shore of Hawaii's third largest island, renowned worldwide for its stretches of white sand beaches and perfect surfing conditions. The fitness studio is lined with floor-to-ceiling windows facing the ocean, allowing guests to exercise to views of the Pacific. A dedicated fitness manager helps guests pursue a healthy lifestyle, offering one-on-one sessions to share his knowledge.
5 Jumeirah Carlton Tower, London, UK
Another Jumeirah hotel, Carlton Tower, offers 5 stars of luxury in the heart of Knightsbridge – London's most exclusive postcode. The Peak Health Club & Spa is located on the ninth floor, offering a peaceful retreat above the UK's busiest city. Hotel guests and members can enjoy a 20 metre indoor pool, sauna, steam room, aerobics studio, fully equipped gym and even an indoor golf stimulator.
6 Vivanta by Taj Bentota, Sri Lanka
Situated on one of the finest beaches on Sri Lanka's South West Coast, Vivanta by Taj Bentota is the highest ranked five star hotel in the area. The Vivanta by Taj Fitness Centre boasts large windows overlooking lush gardens, palm trees and the blue waters of the Indian Ocean. The gym is open 24 hours, allowing guests to utilise the cardio machines, treadmills, cross trainers and exercise bikes at their convenience.
7 Mandarin Oriental New York, New York City, USA
Mandarin Oriental New York is acclaimed for its views, soaring above the city atop the Time Warner Center with floor-to-ceiling windows to maximise the panoramic views. The leisure centre is no exception, boasting a naturally lit 20-metre lap pool overlooking the Hudson River and a state-of-the-art gym complete with views over Manhatten and Central Park. Guests can also enjoy personalised one-on-one yoga classes in the comfort of their hotel room.
8 Vivanta by Taj – Yeshwantpur, Bangalore, India
Vivanta by Taj – Yeshwantpur is a retreat in the bustling city of Bangalore, located in the residential suburb of Yeshwantpur. The 24 hour fitness centre boasts floor-to-ceiling windows overlooking the outdoor pool and landscaped garden terrace, complete with palm trees, seasonal flowers and views of the Bangalore skyline. Gym-goers can enjoy the latest cardio machines, Technogym circuit training, free weights and personal trainers.
For more information, visit trivago.co.uk.