Homes for green-fingered retirees at St George's Park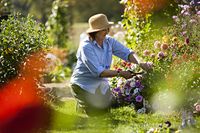 The health benefits of gardening are widely recognised - regular gardening can cut the risk of a heart attack or stroke by as much as 30% among the 60-plus age group, according to a study published in the British Journal of Sports Medicine. With gardening voted the favorite past-time of those in retirement in a poll by Age UK, it is often the main form of exercise for this demographic. So when faced with the need to downsize their home, many retirees risk losing something that gives them pleasure and keeps them active. Designed exclusively for the over-60s St George's Park, a retirement community in Ditchling, East Sussex has allotments available for residents meaning they don't have to give up on gardening.
Philip Smith, Sales & Marketing Director, St George's Park comments: "The allotments are a real draw to the many people buying at St George's Park who love gardening and who might be moving from a home with a large garden which has often become too much for them. Residents find that being involved with the Allotment Club is sociable, fun and good exercise, what is more growing their own vegetables means they are also likely to be eating healthily."
Set in 250 acres of parkland and landscaped gardens, St George's Park is ideal for garden-lovers with beautifully tended grounds to enjoy and plenty of outdoor activities to take part in. The allotments are open to all residents subject to availability, offering a great way to get to know other residents and keep active. A final phase of one and two bedroom apartments is currently for sale in Purchace Manor and Rafael Court giving buyers a last opportunity to be part of this highly successful community.
Some of the most impressive homes in the scheme so far, the generous two-bedroom apartments in Purchace Manor occupy the footprint of the site's original nursing home, they are being built in a grand architectural style making the building a focal point of the scheme. Rafael Court provides a selection of new build one-bedroom apartments in a building that also houses the new leisure centre and health club, due to open later this year, which includes an indoor heated swimming pool, gym, Jacuzzi, sauna, games room, therapy rooms, café and hairdressing salon.
Active and healthy lifestyles are encouraged at every opportunity and there is a wide range of activities on offer for residents who want to get involved and keep busy. The Residents Association organises clubs and societies from bridge, art and scrabble to theatre visits, film nights and speakers, and they can take part in other activities ranging from line dancing and snooker to fishing and bowls. The original concert hall also makes an ideal place for special occasions, communal gatherings and other events including plays, guest speakers and concerts. There is also a library, restaurant / café, convenience shop and concierge service.
Apartments throughout the village are generously proportioned, well planned and filled with natural light. They are finished to a high specification, including stylish fitted kitchens incorporating a full range of integrated appliances. All homes are fully accessible for wheelchair users and residents with mobility impairments, while offering attractive, contemporary interiors. For peace of mind St George's Park has ensured that all apartments come with monitored security, video entry and fire alarm systems. Homes are built to high standards of insulation and energy efficiency, ensuring low utility bills for residents.
Developed by the St Augustine order whose convent remains on the site today, St George's Park will offer 240 apartments when complete as well as three 60-bed care homes located close by within the grounds, for those who need more support. It is located less than three miles from Haywards Heath and Burgess Hill both of which offer good local shopping including major supermarkets and excellent rail links to Brighton, Gatwick Airport and London Victoria. A mini bus service and pool car allow residents who don't drive to go out and about.
Prices for properties currently available at St Georges Park start at £365,000 for a two bedroom apartment in Purchace Manor and from £310,000 for a one-bedroom apartment in Rafael Court. For further information, visit stgeorgespark.co.uk.