Hiking in the USA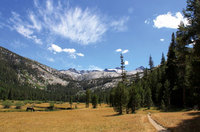 From snow-capped peaks and jagged cliffs to verdant forests and snoozing volcanoes, North America offers endless opportunities for hikers of all levels.
To mark the upcoming American National Trails Day this Saturday, 6 June, adventure travel specialist World Expeditions chooses below the most stunning hiking trips across the USA – for those who want to grab their boots and experience the national parks and the wild landscapes rather than the sandy beaches or the hectic metropolises…
Grand Canyon and Rocky Mountain Trails
This trip brings to life western USA's most famous parks, home to some of the most dramatic landscapes in the world. Absorb the energy of the geysers and boiling mud pots in Yellowstone (the world's oldest National Park), admire hanging lakes in Aspen, hike in the dramatic Rocky Mountains, camp in the Grand Canyon amongst turquoise pools and waterfalls and explore the UNESCO protected Mesa Verde. Stunning drives link the parks, such as the Million Dollar Highway in Colorado, one of America's most scenic routes.
Grand Canyon and Rocky Mountain Trails (15 days) departs June-September, from £2,090 per person
John Muir Trail
Covering some of the most pristine backcountry in the Sierra Nevada Mountain Range (and combined with California's clement weather and warm summer temperatures!), the John Muir Trail stretches for more than 200 miles, from the Yosemite Valley to Mount Whitney, the highest point of the Lower 48 States. Named after Scottish naturalist and activist John Muir, it wanders beneath high snow-capped peaks through untouched, wildlife-filled landscapes, beautiful meadows and forested river valleys that were famously photographed in the 1930s by Ansel Adams.
John Muir Trail (21 days) departs June-September, from £2,390 per person
Alaska: Wrangell-St. Elias Range
A rare opportunity to explore the 'mountain kingdom of North America', pristine and remote landscapes in one of the world's most rugged environments: with over 13 million acres of pure untouched wilderness, the Wrangell-St Elias National Park is the world's largest internationally protected area. Enjoy a spectacular bush flight, cross open alpine tundra and immense glaciers, hike directly beneath the vertical and heavily glaciated north face of Mount Jarvis and view indigenous wildlife such as bears, wolves, caribou and moose.
Alaska: Wrangell-St. Elias Range (12 days) departs in July and August, from £2,690 per person
Hiking the Aloha Islands
Rising out of the deep blue waters in the midst of the Pacific Ocean, Hawaii is one of the most surprisingly diverse destinations. Natural treasures include tropical coral reefs, black sand beaches, stunning waterfalls, cloud forests and lava sputtering volcanoes. Created by continuous lava flows and shifting tectonic plates, over time wind and currents brought plant and animal life that created a unique endemic ecosystem with over 6,000 species that can only be found here. World Expeditions is the first UK operator to offer such an in-depth hiking adventure in the Hawaiian archipelago.
Hawaii – Hiking the Aloha Islands (14 days) departs year round on selected dates, from £2,450 per person
For more information and bookings, visit worldexpeditions.co.uk.