Iveco targets September launch for right hand drive Eurocargo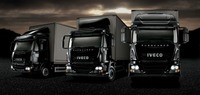 Iveco is planning to launch its new Eurocargo range of medium weight trucks into the UK market in September 2008, following the international launch in Turin on Thursday 8 May.
Amongst the most notable changes to the new model range, which spans the 7.5 to 18 tonne sector, will be the introduction of an automated EuroTronic transmission as standard in the UK market. This follows a strategy successfully pioneered by Iveco with the Stralis in 2001, when it took the bold decision to launch its new heavy truck range with an automatic gearbox as standard.
Andrea Bucci, Marketing Director at Iveco UK, explains: "The new Eurocargo will arrive into a very buoyant truck market and one which has already seen our projected stock of the current model sold-out. We will be defining prices for the new vehicle in the coming weeks, with the latest generation Eurocargo available to order at Iveco dealerships nationwide from June.
"The fitment of an automated transmission as standard continues our strategy of product innovation and will ensure the new Eurocargo is well suited to UK market conditions, where a typical urban distribution cycle and traffic congestion means stop/start driving is commonplace," he adds.
The new range extends to 11,584 different factory configurations and represents a complete line-up of vehicles that can be mission-matched to all types of applications, from urban distribution and regional haulage through to off-road tipper work and specialist 4x4 projects. It is designed to build on the strength of the existing Eurocargo which has been further developed to maintain its role as the benchmark commercial vehicle in the 7.5 to 18 tonne market sector.