100 per cent Iveco fleet for Meachers Group in Southampton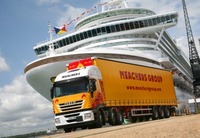 Meachers Group is operating a 100 per cent Iveco fleet from its Southampton depot after taking delivery of 20 new Iveco Stralis 6x2 twin-steer tractor units to join 30 similar models already in operation.
Supplied by local dealer Hendy Van and Truck, each on a three year full service contract hire agreement from Iveco Capital, the Stralis AS440S45TX/P tractors will operate nationwide with 13.6m Lawrence David curtainside trailers, transporting everything from packaging to bottled drinks. Each vehicle is expected to cover approximately 160,000 km a year and will be on-the-road up to 24 hours a day, seven days a week.
"Turn the clock back three years and we had never operated an Iveco vehicle," says Richard Lambourne, a Director of Meachers Group, "but following a really successful three month trial we have been steadily replacing our entire Southampton fleet.
"The Stralis has an excellent driveline through its Cursor 10 engine and EuroTronic gearbox, which collectively delivers very competitive fuel consumption - a critical factor for any haulier these days. We've also experienced excellent reliability from the Stralis', supported by a first class service package from Hendy Van and Truck which ensures that any vehicle downtime is negligible," he adds.
The Iveco Stralis fleet operates exclusively from the Southampton depot, located on the Nursling Industrial Estate, with the latest delivery of 20 vehicles benefiting from Iveco's new Active Space Super³ cab. Designed by Iveco to offer drivers maximum comfort and space, this flagship cab features a heated and air-suspended driver's seat offering four separate comfort level settings and a flat floor covering the living area of the cab. Amongst the key interior features include a slide-out fridge, air-conditioning, door roller blinds and an electrically operated roof-vent and windscreen blind.
"The Active Space Super³ cab has been proving very popular and the drivers love the comfortable new bunks, not to mention the driveability of EuroTronic gearbox. Our drivers work flexible shifts as some of our clients – such as those in the cruise industry – require weekend or evening deliveries to top up goods including bottled drinks. This makes providing a comfortable working and sleeping environment a top priority when specifying new vehicles for the fleet," explains Mr Lambourne.
All of the new Stralis tractor units have been supplied in Meachers' corporate yellow and red livery and are powered by Iveco's 10.3 litre Cursor 10 engine (Euro 5), which is capable of producing up to 450 hp between 1,550 and 2,100 rev/min and up to 2,100 Nm of torque between 1,050 and 1,550 rev/min.
They have been joined on the fleet by an Iveco Eurocargo 180E25 rigid fitted with a sleeper cab and a curtainside body, together with a Daily 65C18 van, both of which will be based at the company's Oast Agency subsidiary. These vehicles will be used in the freight forwarding division, working primarily at Heathrow and Gatwick airports.
"Freight forwarding tends to require movements of pallets or boxes in smaller consignments, hence the need for different sized vehicles," adds Mr Lambourne. "For these roles, the Daily and Eurocargo have an excellent reputation in the industry and meet our requirements in terms of payload capacity and vehicle availability."