UK highlighted as major growth market for Iveco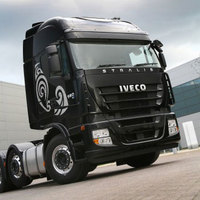 Iveco has reduced lead times for its Stralis and Trakker products to six months, as part of its strategy to increase the company's share of the heavy truck market to 15 per cent by 2011.
The additional product availability comes at a time when Iveco has already recorded a 61 per cent increase in its heavy truck order intake in the UK between January and May 2008, compared with figures for the same period last year.
Henk van Leuven, Managing Director of Iveco UK, explains: "My colleagues at Iveco headquarters in Turin have identified the UK as one of the major European growth markets and are redirecting production accordingly.
"This has enabled us to reduce lead times for factory-ordered product to just six months, whilst many of our dealers also have stock available in the country now, for immediate delivery," he adds.
The advantage of shorter lead times is designed to bring further benefits to operators by enabling them to ensure that any orders placed between now and early next year can be registered ahead of the 30 September 2009 Reduced Pollution Certificate (RPC) deadline. This enables vehicle owners to receive a discount of £500 per year in Vehicle Excise Duty, for the duration of the vehicle's life.
"We recognise that during the tough times the haulage industry is currently experiencing, it is important for operators to maximise the benefit of the RPC. Over the course of a five year life on the fleet, this will add up to a saving of £2,500 per vehicle," Mr van Leuven adds.