New Trakker proves the complete package in South Wales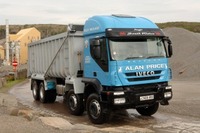 Mid-Glamorgan based Alan Price & Sons, which in 1994 became the first customer in the UK to take delivery of the original Iveco EuroTrakker, has added the latest Trakker 8x4 to its fleet of 20 commercial vehicles.
The Trakker AT340T41K benefits from a high roof Active Time sleeper cab and joins a mixed fleet. Supplied by local Iveco dealer Dragon Truck & Van, it will be used primarily in the waste sector and will operate away from the company's base five days a week, with the driver sleeping overnight in the cab and expected to cover up to 130,000 km a year.
Ray Price, a Director of Alan Price & Sons, explains: "I saw the Trakker on Iveco's stand at SED 2007 and was immediately impressed, particularly with the build quality and comfort levels inside the cab.
"Our drivers treat their cabs like a home away from home during the week, which means it's essential to supply them with a vehicle with a comfy sleeping area and plenty of personal storage space. With the new Trakker Iveco has really delivered a complete package, with the luxury of a double bunk arrangement and masses of internal storage, coupled with generous external lockers which are ideal for wet gear and bulky outdoor jackets."
Plated at 32 tonnes, the Trakker has been specified with Iveco's powerful 12.8 litre Cursor 13 engine, which is capable of producing up to 410 hp between 1,515 and 1,900 rev/min, ensuring maximum power is available from intermediate speeds to allow smooth driving even on rough terrain. Also key to the Trakker's performance is the 1,900 Nm of torque available between 1,000 and 1,515 rev/min, which aids manoeuvring in adverse operating conditions.
Amongst the most notable features on the new Trakker is the introduction of single reduction Meritor axles, replacing the hub reduction variants previously fitted to all EuroTrakker and Trakker models. This fitment is designed to help operators such as Alan Price & Sons to further improve fuel economy and brings Iveco's specification in line with the majority of manufacturers in this market.
The latest Trakker also benefits from a specification including all-round ventilated disc brakes, which significantly improves braking performance, coupled with simpler and faster maintenance, helping to further reduce downtime during vehicle servicing.
Expected to remain on the fleet for up to 10 years, the new Trakker is fitted with Wilcox Commercial Vehicle's new U-shape tipping body, which is designed to help stop parts of the load sticking inside the body when the body lifts.
Finished in the company's distinctive blue livery, the Trakker will be serviced at Dragon Truck & Van's dealership in Merthyr Tydfil.