Stralis wins the space race at Bedfords Transport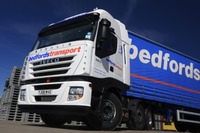 The first new Iveco Stralis Active Space Super³ tractor units to enter operation with West Yorkshire-based Bedfords Transport have been given the 'thumbs up' by drivers.
Local Iveco dealer Northern Commercials has delivered two of the latest Stralis models, with a further nine set to enter operation on 1 September 2008. They will join an 86-strong fleet of vehicles which is split 50/50 between Iveco and Volvo, including more than 35 existing Stralis tractors which began entering service when the original Stralis was launched in 2002.
Phil Lockwood, Commercial Director of Bedfords Transport, explains: "These days commercial vehicles are all very similar, and the engines, gearboxes and axles are much the same. What really makes the difference is the quality of the cab, and the refinement of the Stralis has won over our drivers.
"There used to be a time when they favoured the Volvos, but the sheer amount of space and storage inside the new Stralis means that drivers are proactively asking to drive the new Iveco's," he adds.
Each of the new vehicles will be finished in Bedfords Transport's new livery, with the Stralis AS Super³ cab offering drivers 20 per cent more internal space (+95 mm in height, +90 mm in depth, allowing for a total increase of 1.8m³) than the previous AS model Stralis. As one of the most spacious two-man high-roof cabs available on the market, they also benefit from a heated and air-suspended driver's seat offering four separate comfort level settings and a flat floor covering the living area of the cab, together with a slide-out fridge, air-conditioning, door roller blinds and an electrically operated roof-vent and windscreen blind.
Power is provided by Iveco's 10.3 litre Cursor 10 engine (Euro 5), which is capable of producing up to 450 hp between 1,550 and 2,100 rev/min and up to 2,100 Nm of torque between 1,050 and 1,550 rev/min, driven through a twelve speed EuroTronic gearbox which offers either fully or semi-automated shifts.
The Stralis 6x2 twin steer tractor units (AS440S45TX/P) are being supplied on a five year Elements repair & maintenance agreement which will see the vehicles serviced at Northern Commercial's dealership in Armytage Road, Brighouse.