Iveco dealers to benefit from additional £1,000,000 investment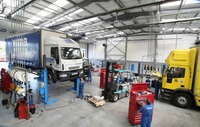 Iveco's nationwide network of 107 authorised service locations are set to benefit from a £1,000,000 business development programme during 2008 as part of a new initiative announced by the company's Customer Service division.
Appropriately named the 2008 Five Star Customer Programme, the scheme has been launched exclusively in the UK to provide additional support to the dealer network as Iveco moves towards achieving its strategy of a 15 per cent market share for Daily, 30 per cent for Eurocargo and a 15 per cent share for Stralis and Trakker by 2011.
Launching the Five Star Customer Programme, Bob Lowden, Director of Customer Service at Iveco UK explains: "In order to meet and surpass the challenges our growth will place on the network, we have created a bespoke set of service level standards which focus on the key areas affecting every dealership – roadside response times, compliance measurement and service quality levels.
"Dealers have been set a series of core requirements which must be fulfilled in each area, with a bonus escalator payable on a quarterly basis provided each target has been met. For an average sized dealership this could be worth as much as £40,000 a year, and represents money which can be invested straight back into the business to further improve the customer experience," he adds.
The Five Star Customer Programme is open to all Iveco dealers which meet a series of basic requirements, ranging from defined minimum opening hours through to the availability of a test trailer with moveable weights and specific diagnostic tools at every location.
The performance of eligible dealers is measured on an ongoing basis against KPIs spanning five principal areas, including Assistance Non-Stop (Iveco's roadside assistance programme), vehicle off-road status, MOT pass rates, staff training and dealer parts stock coverage.
"The KPIs are designed to ensure Iveco dealers offer the very best truck support network in the UK market, with all targets entirely achievable but designed to raise the bar to a new level," adds Mr Lowden.
"As an example, the Five Star Customer Programme has set dealers a minimum first time MOT pass rate target of 90 per cent, excluding passes on resubmission. This is without doubt the highest target set by any manufacturer in the UK, and I believe is a realistic figure considering the current variability of test standards across the country. We are currently hitting 82 per cent, which places the Iveco network amongst the very best performers nationally."
Examples of other KPIs which comprise the Five Star Customer Programme include dealers arriving at the scene of a roadside breakdown within 60 minutes of accepting an Assistance Non-Stop assignment, and the total time to repair being within an average of three hours over a minimum of 80 per cent of all incidents.
Technicians must also attend a minimum of five days technical training with Iveco each year, operate an approved apprentice recruitment plan and meet a minimum parts availability index of 90 per cent. Dealers must also keep a mandatory heavy truck parts stock to ensure maximum support as Iveco grows its market share for Stralis and Trakker.
The Five Star Customer Programme is part of a rolling programme which will be adapted to ensure it continues to meet the needs of the Iveco network over the coming years. It is managed by Iveco's Customer Service division in Winsford, Cheshire.