Stralis fleet grows at Brocklehurst Transport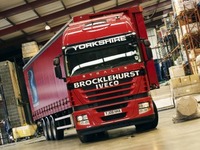 West Yorkshire-based Brocklehurst Transport, one of the first hauliers to take delivery of an Iveco Stralis when the original model was launched in 2002, has added a ninth Stralis to its fleet of 32 commercial vehicles.
The arrival of the Stralis Active Space Super³ (AS440S45TX/P), which benefits from one of the largest two-man high roof cabs on the market, increases Iveco's share of the company's fleet to over 90 per cent, with this latest vehicle supplied on an Elements repair & maintenance agreement by local dealer Northern Commercials.
Dave Webster, Managing Director of Brocklehurst Transport, explains: "We have been a strong supporter of the Stralis since taking delivery of our first model six years ago, with the trucks returning a competitive fuel economy and proving reliable.
"This latest model takes an already successful platform and improves it yet further, with lots of extra room inside the cab for the driver, even comfier bunks and seats and plenty of additional storage space. The feedback from our drivers has been very positive, and we have a tenth identical Stralis set to join the fleet on 1 September as well," adds Mr Webster.
The new Stralis 6x2 twin-steer is plated at 44 tonnes and will be used for nationwide general haulage, operating with a tri-axle curtainside trailer. It is expected to cover up to 75,000 miles a year and will remain on the fleet for six years.
Powered by Iveco's 10.3 litre Cursor 10 engine, this Stralis is particularly suited to an economical driving style, with a peak torque of 2,100 Nm available at low engine speeds (1,050 to 1,550 rev/min), which helps to simplify hill starts with a full load, protecting the clutch and guaranteeing flexibility and quiet running. The maximum 450 hp is also delivered at intermediate speeds; helping to reduce fuel consumption and emissions, since it is not always necessary to increase the engine speed.
As an additional benefit to Brocklehurst Transport, this latest Euro 5 vehicle – and the Stralis due for delivery on 1 September – will both be eligible to receive a discount of £500 per year in Vehicle Excise Duty, via the RPC (Reduced Pollution Certificate) for the duration of the vehicle's life. Over the course of six years in the fleet, this accounts to a saving of £3,000 per vehicle.
The vehicle is controlled through Iveco's 12-speed EuroTronic transmission, which offers either fully or semi-automated shifts. This continues the trend Iveco started with the launch of the original Stralis, when it became the first heavy truck to be fitted with an automated gearbox as standard.