Iveco Stralis wins 4x2 order from Joda Freight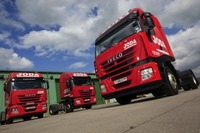 Joda Freight has replaced four 6x2 tractor units in its fleet with new Iveco Stralis Active Space Super³ 4x2 tractors, each supplied on a five year Elements repair & maintenance agreement by Northern Commercials.
The delivery marks the first Iveco's to join the company's fleet in five years, replacing the two Stralis tractors originally supplied in 2003. They join a fleet comprising more than 80 commercial vehicles and 100 trailers which are used exclusively for nationwide haulage and distribution.
David Wareing, Director of Joda Freight, comments: "We're not carrying as much bulk as we used to so have opted to replace the 44 tonners with 4x2 tractors, which enables us to make efficiency savings throughout the vehicles' life.
"Providing drivers with one of the largest long-distance cabs available on the market has been well received, with initial feedback praising the size of the Stralis cab, particularly the amount of standing room and the flat floor covering the living area. Drivers also favour the large top bunk, together with the fold-out table and comfort seat which makes life on board much more relaxing," he adds.
Each of the new vehicles also benefits from a wealth of storage compartments, with the main central storage compartment increasing to 450 x 780mm in size, compared with 220 x 595mm in the previous Stralis AS model. These new vehicles also feature significantly larger electronically operated external locker compartments as standard, which help to increase the total amount of storage available by 15 per cent.
Another feature popular with the drivers is the standard EuroTronic gearbox. Offering either fully or semi-automated shifts, the EuroTronic's gear change controls are incorporated into the dashboard and right-hand steering column stalk, which is one of the principal factors which enables Iveco engineers to ensure a completely flat cab floor.
The automated gearbox allows manual changes made in semi-automatic mode to be controlled via the steering column stalk, whilst the selection of automatic and semi-automatic modes, neutral, reverse and the low speed manoeuvring mode (forward and reverse) are controlled from three dash mounted switches located to the left of the steering column, making gear changes easy for the driver.
All four vehicles are powered by identical Iveco 10.3 litre Euro 5 Cursor 10 engines, which are capable of producing up to 450 hp between 1,550 and 2,100 rev/min and up to 2,100 Nm of torque between 1,050 and 1,550 rev/min.
Operating from the company's headquarters in Crosshills, West Yorkshire, the new Stralis tractor units will be in operation six days a week and are expected to cover up to 160,000 km a year.